PELAKSANAAN PROGRAM ASURANSI KESEHATAN BAGI PESERTA IBADAH HAJI DAN UMROH PADA PT. ASURANSI JIWA BRINGIN JIWA SEJAHTERA CABANG SEMARANG
Adrian Avan Rizqy Saputra

Fakultas Hukum dan Bahasa, Universitas Stikubank

Arikha Saputra

Fakultas Hukum dan Bahasa, Universitas Stikubank
Keywords:
Insurance, Life Insurance, Hajj and Umrah Insurance
Abstract
Life insurance for Umrah and Hajj services protects pilgrims and their families financially in case of unforeseen events during Hajj. This insurance product can cover medical expenses, replacement costs of lost or damaged property, and monetary compensation in the event of death or permanent disability. By having life insurance for Umrah and Hajj, pilgrims can feel comfortable and concentrate on their pilgrimage without worrying about potential financial risks. As a risk transfer institution, insurance companies are always willing to bear all risks insured to them. However, the coverage is certainly based on the type of insurance company itself.  The result of the study is PT. Asuransi Bringin Jiwa Sejahtera Jiwa organizes a Health Insurance Program for Hajj and Umrah participants by ensuring compliance with Article 80 of Law Number 8 of 2019 and Article 5 of Government Regulation Number 8 of 2022. The insurance covers life, accident, and health insurance for Hajj and Umrah pilgrims, as well as coordinating protection activities for Indonesian citizens abroad, PT. Asuransi Jiwa Bringin Jiwa Sejahtera can make claim payments and account deductions on behalf of PT. Life Insurance Brings a Prosperous Life if the documents are completed correctly. If the required documents are not submitted, PT. Asuransi Bringin Sejahtera Life may request the Head Office to forward the claim documents to the relevant Branch Office within 14 working days., Insurance Claim Barriers Customers are often delayed due to factors such as long filing times, incomplete requirements, premium payments, and insurance decision-making time. Insurers face obstacles such as slow resolution of problems and lengthy compensation processes, which can result in cancellation of coverage if the insurer already knows the real situation. The insurer must also address false or untrue statements or failure to disclose known information to the insured, as per Article 251 KUHD.
Downloads
Download data is not yet available.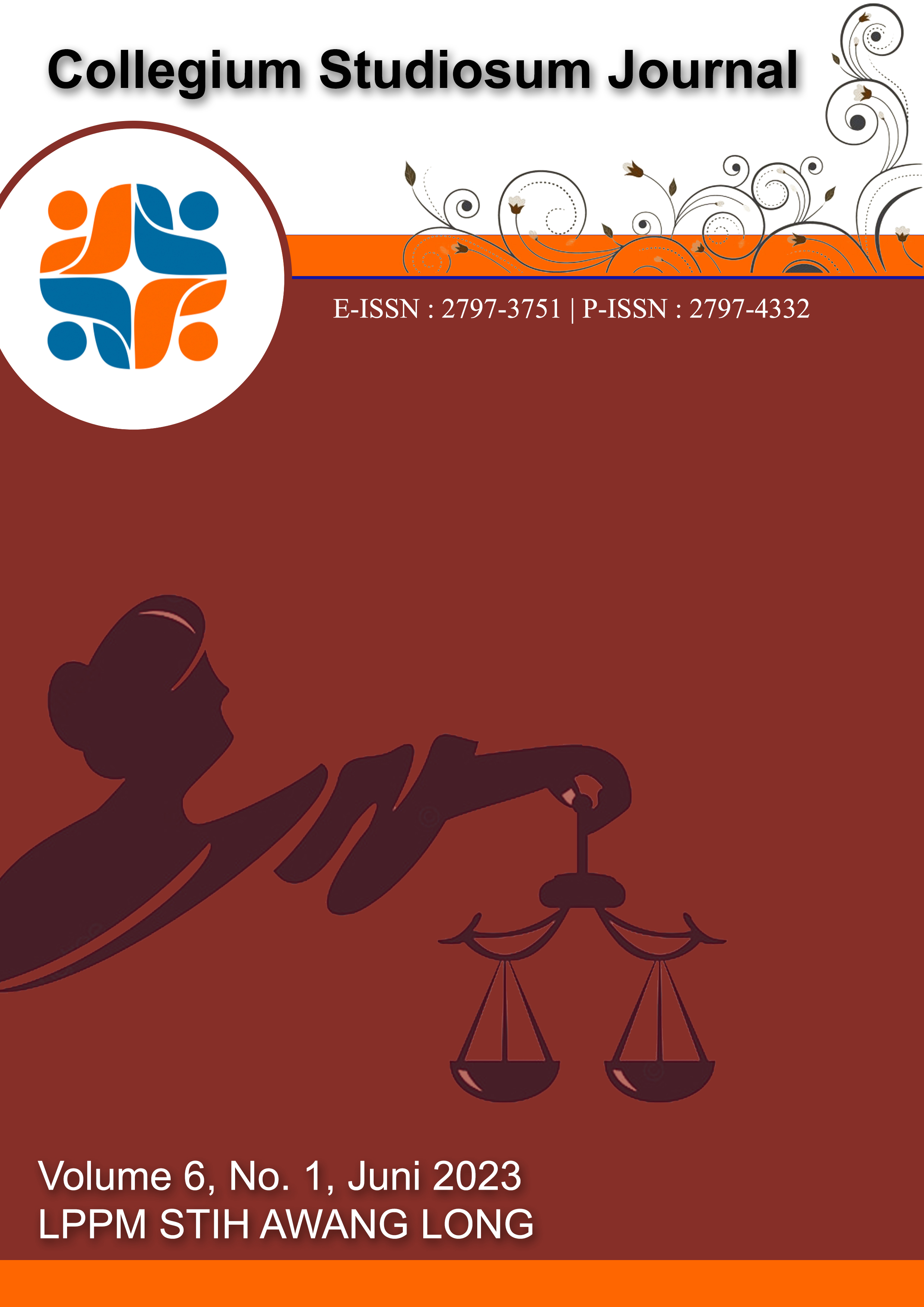 How to Cite
Adrian Avan Rizqy Saputra, & Arikha Saputra. (2023). PELAKSANAAN PROGRAM ASURANSI KESEHATAN BAGI PESERTA IBADAH HAJI DAN UMROH PADA PT. ASURANSI JIWA BRINGIN JIWA SEJAHTERA CABANG SEMARANG. Collegium Studiosum Journal, 6(1), 272-280. https://doi.org/10.56301/csj.v6i1.909
Copyright (c) 2023 Adrian Avan Rizqy Saputra, Arikha Saputra
This work is licensed under a Creative Commons Attribution-ShareAlike 4.0 International License.