LEGAL PROTECTION OF CHILDREN OUT OF MARRIAGE REGARDING THE ACQUISITION OF INHERITANCE RIGHTS BASED ON CUSTOM MARRIAGE ACCORDING TO INDONESIAN LEGAL PERSPECTIVE
Vonny Armin

Faculty of Law, Indonesian Prima University

Illie Vicario

Faculty of Law, Indonesian Prima University

Vincent De Paul

Faculty of Law, Indonesian Prima University

Herman Brahmin

Faculty of Law, Indonesian Prima University
Keywords:
The Illegitimate Child, Inheritance, Heir
Abstract
Marriages are carried out in accordance with applicable customary provisions and the religion adopted is legal according to the Indonesian law. The research method that was used was a qualitative research method. However, this customary and religious marriage without registering it in the Civil Registration is still legal under the law, but it will have an impact on the legal consequences of the child being born. These children will be born with the status of illegitimate child for law administration. This will cause problems in the distribution of inheritance to these children. These children still have thev thev opportunityv to inherit thev propertyv ofv theirv parentsv, if v they varevrecognizedvbyvtheirvfathervand mother. At the same time, they can inherit their mother's property directly in accordance with the law without any acknowledgment at all, because the name listed on their Birth Certificate is a valid proof of heir. Even though they were born as illegitimate children, they are the heirs who are prioritized as the First Class of Heirs. Therefore, legal protection for illegitimate children is needed for their right to receive their parents' inheritance. The result inheritance law protection for children out of wedlock is regulated carefully in the Civil Code, which then the status of children out of wedlock becomes stronger with the existence of Article 43 UUP. The status of this illegitimate child becomes the same as the heir to the first class.
Downloads
Download data is not yet available.
References
Afandi, A. (2000). Inheritance Law Family Law Law of Evidence. Jakarta: Rineka Cipta.
Andika Setyo Nugroho, & Amsori. (2022). ANALISA FEMINISME DALAM PERSPEKTIF HUKUM STUDI KASUS: PERLINDUNGAN HUKUM TERHADAP PEREMPUAN SEBAGAI KORBAN TINDAK PIDANA PEMERKOSAAN DI LINGKUP HUKUM POLDA METRO JAYA. Jurnal Ilmu Hukum The Juris, 6(2), 363-371. https://doi.org/10.56301/juris.v6i2.603
Asri, B., & Asri, T. (1998). Fundamentals of Western Inheritance Law (A Theoretical and Practical Discussion). Bandung: Tarsito.
Hadikusuma, H. (1999). Customary Inheritance Law. Bandung: PT. Citra Aditya Bakti.
Jubaedah, S., Mardi, M., Aryanto, Y., & Fajarianto, O. (2022). Studi Empiris Nilai Perusahaan Pada Masa Pandemi Coronavirus Disease. Jurnal Akuntansi dan Pajak, 22(2), 799-815.
Oemarsalim. (1991). Fundamentals of Inheritance Law in Indonesia. Jakarta: Rineka Cipta.
Klaassen, J. G., & Eggens, J. E. (1979). Goedeizen en Erfrecht-Inheritance Law. Jakarta: Esa Study Group.
Padma D. Liman, Birkah Latif, Dara Indrawati, Anhar Aswan, & Maria Deriana Rosari Putrina Naha. (2022). EDUKASI PEMAHAMAN TENTANG PEMINJAMAN SERTIFIKAT TANAH. Jurnal Ilmu Hukum The Juris, 6(1), 292-302. https://doi.org/10.56301/juris.v6i1.670
Tjitrosudibyo, R., & Subekti. (1978). Law Number I of 1974 concerning Marriage. Jakarta: Pradnya Pramita.
Saraswati, R. (2015). Child Protection Law in Indonesia. Bandung: PT. Citra Aditya Bakti.
Soemitro, I. S. (1990). Legal Aspects of Child Protection. Jakarta: Bumi Aksara.
Soepomo. (1994). Chapters on Customary Law. Jakarta: Pradnya Paramita.
Sudarmono. (2010). National Marriage Law. Jakarta: PT Rineka Cipta.
Wijanarko, D. S., Eleanora, F. N., Efrianto, G., & Fajarianto, O. (2021). Juridical Analysis of Terrorism Criminal Sanctions in Indonesia (Case Study of Imam Santoso Criminal Acts). LINGUISTICA ANTVERPIENSIA, 1043-1050.
Yolanda, N., & Fajarianto, O. (2021). JURIDICAL ANALYSIS OF CURRENCY AND CITIZENSHIP STATUS OF CHILDREN ON DIVORCE IN MIXED MARRIAGE. Review of International Geographical Education Online, 11(10).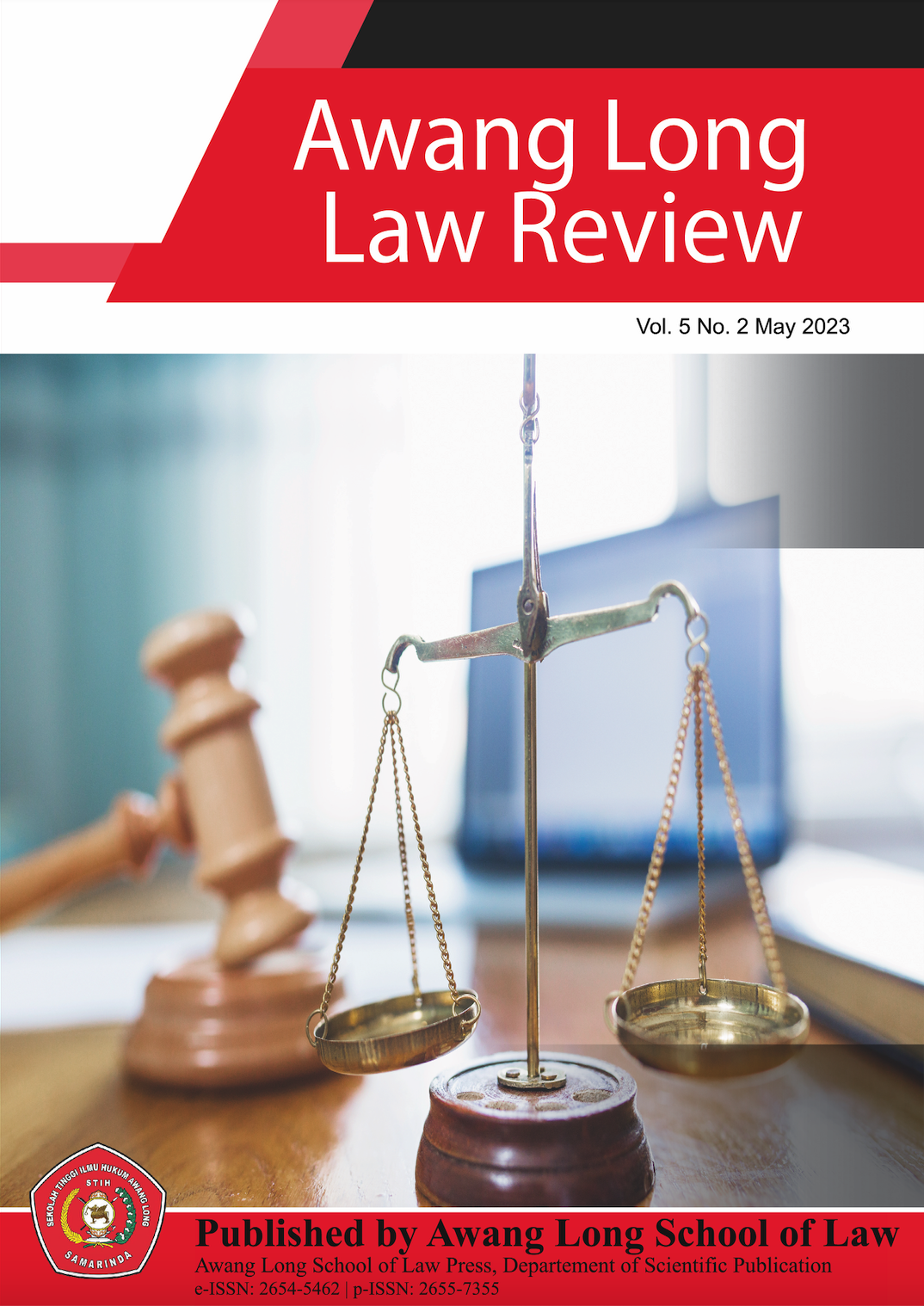 How to Cite
Armin, V., Illie Vicario, Vincent De Paul, & Herman Brahmin. (2023). LEGAL PROTECTION OF CHILDREN OUT OF MARRIAGE REGARDING THE ACQUISITION OF INHERITANCE RIGHTS BASED ON CUSTOM MARRIAGE ACCORDING TO INDONESIAN LEGAL PERSPECTIVE. Awang Long Law Review, 5(2), 379-386. https://doi.org/10.56301/awl.v5i2.653
Copyright (c) 2023 Vonny Armin, Illie Vicario, Vincent De Paul, Herman Brahmin
This work is licensed under a Creative Commons Attribution-ShareAlike 4.0 International License.