SEMARANG CITY HOUSING INFRASTRUCTURE MANAGEMENT BASED ON REGIONAL REGULATION AND MAYOR REGULATION
Kun Fadira Fachrani

Master of Notary, Faculty of Law Diponegoro University

Zil Aidi

Master of Notary, Faculty of Law Diponegoro University
Keywords:
Infrastructure, Duties and Functions, Disperkim
Abstract
The provision of infrastructure governance is often the center of attention for problems in residential areas because infrastructure services are not fulfilled. Communities should be able to feel these services for free in their housing environment. This writing aims to identify and analyze the duties and functions of the Housing and Settlement Area Department (Disperkim) in providing quality infrastructure for communities in residential areas. Researchers used legal research methods with a normative juridical approach. The results of this study indicate the duties and functions of the Housing and Settlement Area Department as one of the Regional Apparatuses or Regional Technical Implementation Units of the City of Semarang in improving the quality of housing and settlement infrastructure.
Downloads
Download data is not yet available.
References
Arenawati. (2014). Administrasi Pemerintahan Daerah: Sejarah Konsep dan Pelaksanaan di Indonesia. Yogyakarta: Graha Ilmu.
Busro, A. (2011). Hukum Perikatan Berdasar Buku III KUHPerdata. Yogyakarta: Pohon Cahaya.
Kurniati, N. (2014). Pemenuhan Hak atas Perumahan dan Kawasan Permukiman yang Layak dan Penerapannya Menurut Konvenan Internasional tentang Hak-hak Ekonomi, Sosial, dan Budaya di Indonesia. Padjajaran Jurnal Ilmu Hukum, 1(1).
Muhammad, A. (2004). Hukum dan Penelitian Hukum. Bandung: Citra Aditya.
Nugrahandika, R. W. D. P. (2018). Lokalitas Pengaturan Prasarana, Sarana, dan Utilitas Umum Perumahan di DIY: Tipologi Permasalahannya. Seminar Nasional Space, 3(2).
Peraturan Daerah Nomor 6 Tahun 2015 tentang Penyediaan, Penyerahan, dan Pengelolaan Prasarana, Sarana, dan Utilitas Kawasan Perumahan, Kawasan Perdagangan dan Jasa, serta Kawasan Industri.
Peraturan Walikota Nomor 65 Tahun 2016 tentang Kedudukan, Susunan Organisasi, Tugas dan Fungsi serta Tata Kerja Dinas Perumahan dan Kawasan Permukiman Kota Semarang.
Setiawan, N., & Ariyono. (2019). Pengawasan DPRD Kota Semarang Terhadap Penggunaan Anggaran Daerah Semarang Oleh Pemerintah Daerah Kota Semarang. Humani (Hukum dan Masyarakat Madani), 5(3).
Soekanto, S. M. (2009). Penelitian Hukum Normatif (Suatu Tinjauan Singkat). Jakarta: PT. Raja Grafindo Persada.
Sunarto. (2012). Dasar-Dasar Pemahaman Hukum Tata Negara. Semarang: UNNES PRESS.
Susilawati, D. P. (2019). Tanggung Jawab Pengembang Perumahan Dalam Penyerahan Fasilitas Perumahan Kepada Pemerintah Kota Semarang. Notarius Jurnal Studi Kenotariatan, 12(2).
Risandy, J. I., & Putra, M. F. M. (2022). THE NOTARY ROLE IN THE IMPLEMENTATION OF A PAWN PAYMENT AGREEMENT ACCORDING TO HABITS OR TRADITION (GA'DE DAE) IN PUKDALE VILLAGE, KUPANG REGENCY, NTT. Awang Long Law Review, 5(1), 7-18. https://doi.org/10.56301/awl.v5i1.529
Taufani, G., & Suteki. (2020). Metodelogi Penelitian Hukum (Filsafat, Teori dan Praktik). Depok: PT Raja Grafindo Persada.
Thamrin, H., & Nason Nadeak. (2021). RE-EXAMINATION OF THE DETERMINATION OF LABOR SERVICE SUPERVISORS REVIEW FROM THE PERSPECTIVE OF LAW NO. 30 YEAR 2014. Awang Long Law Review, 4(1), 223-226. https://doi.org/10.56301/awl.v4i1.329
Utomo, A. (2021), Achmad. Sub-section of Planning and Evaluation of the Semarang City Housing and Settlement Area Department. Interview. Semarang.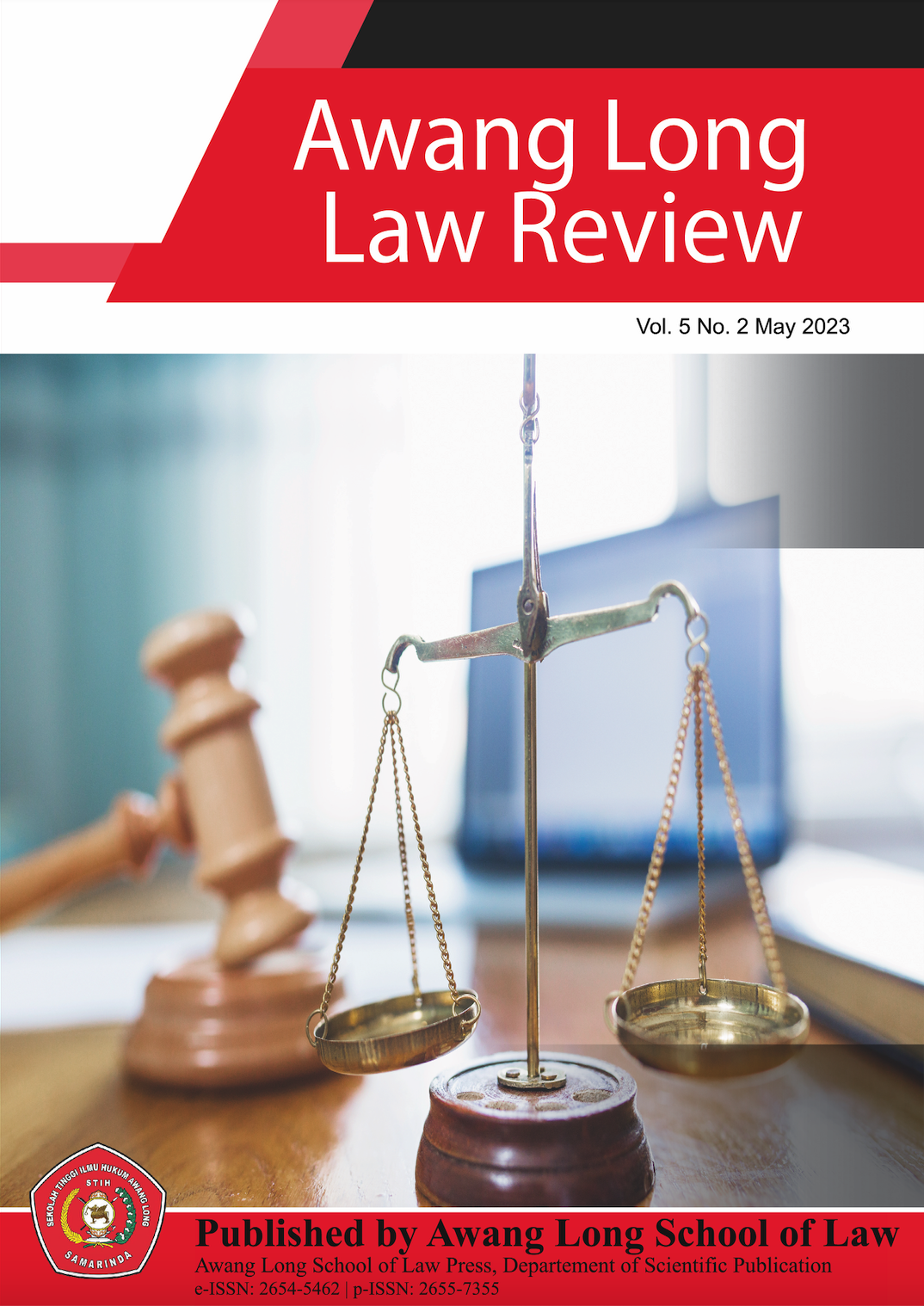 How to Cite
Kun Fadira Fachrani, & Zil Aidi. (2023). SEMARANG CITY HOUSING INFRASTRUCTURE MANAGEMENT BASED ON REGIONAL REGULATION AND MAYOR REGULATION. Awang Long Law Review, 5(2), 446-452. https://doi.org/10.56301/awl.v5i2.726
Copyright (c) 2023 Kun Fadira Fachrani, Zil Aidi
This work is licensed under a Creative Commons Attribution-ShareAlike 4.0 International License.