LEGAL REMEDIES OF THE INVESTMENT ALERT TASK FORCE IN COUNTERING FICTITIOUS INVESTMENTS
Maryano

Postgraduate of Law, Jayabaya University
Keywords:
Illegal Investment, Investment Alert Task Force, Economic Growth
Abstract
The purpose of this study is to examine how to protect investors from illegal investment crimes. So that the public can be educated. This research uses a normative juridical approach method. The result is that the mode of fraud under the guise of illegal investment still occurs frequently, although with the formation of the Investigation Alert Task Force the fraud still occurs although it is not as lively as it used to be. Especially after the emergence of cases of artists who were caught for illegal investments. The resilience of Indonesia's economic conditions, especially when hit by the pandemic but still quite strong, is still quite strong, especially positive growth is still occurring in this country. Practically this is the goal of investors. Plus based on the data, the new middle class continues to crawl up. Apparently, this has contributed to increasing the occurrence of crime in the investment sector. Investment is very important for the economic development of a country. A country will find it difficult to develop if there is no investment to support its process. Investment can also be called investing money or capital, which aims to get a profit. An investment is the obligation to inject funds in an asset for a certain period of time in the future. Crime in the investment sector gives rise to fictitious investments that are widely offered to the public by illegal investment companies. People who actively invest are sometimes less vigilant and clear in making investment choices. The rampant incidence of fraud under the guise of illegal investment has made the state present, one of which is the establishment of the Investment Alert Task Force. Through library research and normative descriptive qualitative methods, the author wants to dive into the extent to which the task force commanded by the FSA will become a stronghold for investors.
Downloads
Download data is not yet available.
References
Amanda, S., Noval, S. M. R., & Herlina, E. (2022). "Penegakan Hukum Terhadap Praktik Money Game Dengan Skema Ponzi Dalam Investasi Ilegal Pada Aplikasi Tiktok E-Cas Di Indonesia." Res Nullius Law Journal, 4(1).
Arno, A. K. (2017). "Peran Otoritas Jasa Keuangan Dalam Mengawasi Resiko Pembiayaan Dalam Investasi Bodong." Al Anwal: Journal of Islam Economic Law, 2(1), 85–95.
Diba, N. F., Disemadi, H. S., & Prananingtyas, P. (2020). "Kebijakan Tata Kelola Otoritas Jasa Keuangan (OJK) Di Indonesia." Ekspose: Jurnal Penelitian Hukum Dan Pendidikan, 18(2), 868–876.
C. E. D., Sutiknowati, L. I., & Falahudin, D. (2019). "Isolasi Dan Identifikasi Bakteri Toleran Logam Berat Dari Sedimen Mangrove Di Pengudang Dan Tanjung Uban, Pulau Bintan, Indonesia." Oseanologi Dan Limnologi Di Indonesia, 4(2), 71.
Jamal, T. F., & Priyana, P. (2021). "Perlindungan Konsumen Pengguna Investasi Ilegal Vtube Berdasarkan Undang-Undang Nomor 21 Tahun 2011 Tentang Otoritas Jasa Keuangan." Wajah Hukum, 5(1), 26.
Kristianti, D. S. (2021). "Prinsip Kebersamaan Dalam Hukum Investasi Undang-Undang Nomor 11 Tahun 2020 Tentang Cipta Kerja: Politik Hukum Kepentingan Investasi Ataukah Kesejahteraan Masyarakat." PAMALI: Pattimura Magister Law Review, 1(2), 90.
Kurniawan, C. C., Putri, S. N., Alsabilah, Z., & Abdullah, A. G. (2021). "TANGGUNG JAWAB OTORITAS JASA KEUANGAN (OJK) TERHADAP PEMBERANTASAN PINJAMAN ONLINE ILEGAL." Prosiding SENAPENMAS, 1287.
Mahadiansar, M., Setiawan, R., Darmawan, E., & Kurnianingsih, F. (2021). "Realitas Perkembangan Investasi Asing Langsung Di Indonesia Tahun 2019." Matra Pembaruan, 5(1), 65–75.
Maulana, M. I., Alauddin, M., Umein, A., Brawijaya University, & Stai Ypbwi. (2021). "THE DEVELOPMENT AND IMPLEMENTATION OF PUBLIC POLICIES." Awang Long Law Review, 4(1), 110–117.
Miru, A. (2011). Prinsip-Prinsip Pelindungan Hukum Bagi Konsumen Di Indonesia. Jakarta: PT. RajaGrafindo Persada.
Muthiah, A. (2022). "Pertanggungjawaban Hukum pada Pengelolaan Dana Haji untuk Investasi Infrastruktur." Al-Adl: Jurnal Hukum, 14(1), 65.
Natalia Lorien, Tantimin. (2022). "Hukum Pidana Natalia Lorien, Tantimin e-Journal Komunikasi Yustisia Universitas Pendidikan Ganesha Imbalan Kepada Pengelola Sesuai Masyarakat Lebih Banyak Melakukan." Ejournal.Undiksha.Ac.Id, 5(8).
Rachmaningsih, D. (2016). "Penegakan Hukum Terhadap Penipuan Bisnis Berkedok Yang Menerapkan Skema Piramida." Universitas Islam Indonesia.
Rhizaldy, V. (2018). "Perlindungan Hukum Terhadap Investor Pada Bisnis Skema Ponzi Di Indonesia." Universitas Brawijaya.
Syauket, A., Adawiah, R. A., & Ferdiananto. (2022). "Hukum Perlindungan Investor: Analisis Investasi Ilegal Binomo." Jakarta: CV. Literasi Nusantara Abadi.
Yudhira, A. (2021). "Analisis Perkembangan Financial Technology (Fintech) Syariah Pada Masa Pandemi Covid-19 Di Indonesia." Value, 2(1), 13–28. doi: 10.36490/value.v2i1.118.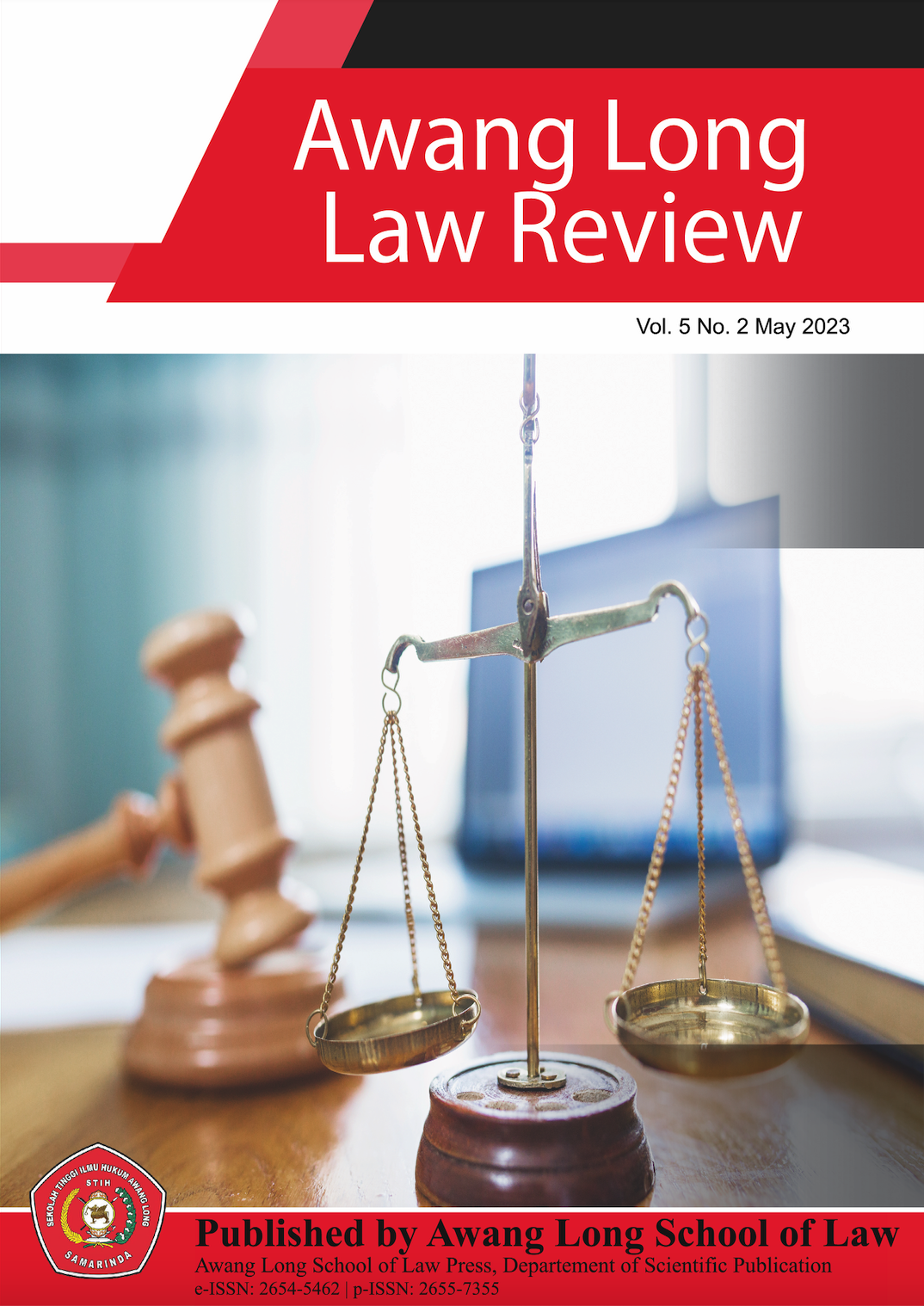 How to Cite
Maryano. (2023). LEGAL REMEDIES OF THE INVESTMENT ALERT TASK FORCE IN COUNTERING FICTITIOUS INVESTMENTS. Awang Long Law Review, 5(2), 453-457. https://doi.org/10.56301/awl.v5i2.727
Copyright (c) 2023 Maryano
This work is licensed under a Creative Commons Attribution-ShareAlike 4.0 International License.