THE IMPACT OF THE COVID-19 PANDEMIC ON THE FULFILLMENT OF CREDIT WITH MORTGAGE RIGHTS IN LEGAL TERMS FOR THE DEBTOR
Adella Rachma Juliani

Master of Notary, Faculty of Law Diponegoro University

Siti Malikhatun Badriyah

Master of Notary, Faculty of Law Diponegoro University
Keywords:
Mortgage, Overmacht/Force Majeure, Pademic, Covid-19
Abstract
The Covid-19 has an impact that affects many sectors, including the implementation of credit agreements that are subject to dependent rights. These effects led the debtor to experience overmacht and force majeure, so it is difficult to fulfill the obligations from the contract because income during the CoAvid-19 pandemic was unstable. The approach used in this study is normative juridical. The results showed that the situation of the Covid-19 pandemic can be used as a basis for overmacht because it has fulfilled the elements of overmacht. Thus, the execution of the debtor's liability rights object is not possible, which is hindered by the fulfillment of its credit obligations. Issuance of POJK Number 11/POJK.03/2020 on National Economic Stimulus as a Countercyclical Policy on the Impact of Coronavirus Disease 2019 as a policy that provides legal protection for overmacht debtors affected by Covid-19 by providing credit restructuring.
Downloads
Download data is not yet available.
References
Busro, A. (2011). Hukum Perikatan Berdasar Buku III KUHPerdata. Yogyakarta: Pohon Cahaya.
Burhanudin, O., Manan, A., Yusuf Hasibuan, F., & Lina, R. (2021). RESTORATIVE JUSTICE AGAINST CHILDREN AS CRIMINAL ACTORS. Awang Long Law Review, 3(2), 183-193. https://doi.org/10.56301/awl.v3i2.142
Eko, B., & Nayasari, D. N. S. (2020). Keabsahan Force Majeure Dalam Perjanjian Di Masa Era Pandemi Covid-19. Jurnal Humaniora, 4(2).
Hardiansyah, M. T., & Ayu, I. K. K. (2021). Perlindungan Hukum Terhadap Debitur Yang Kesulitan Untuk Memenuhi Kewajiban Dalam Perjanjian Kredit Akibat Pandemi Covid-19. Dinamika, 27(3).
Hernoko, A. Y. (2010). Hukum Perjanjian Asas Proporsionalitas Dalam Kontrak Komersial. Jakarta: Kencana Prenadamedia Group.
Husni Thamrin. (2020). LAW ENFORCEMENT IN INDONESIA IN THE PERSPECTIVE OF LAW STATES. Awang Long Law Review, 2(2), 89-92. https://doi.org/10.56301/awl.v2i2.84
Indonesia. Kitab Undang-Undang Hukum Perdata.
Indonesia. Undang-Undang Nomor 4 Tahun 1996 tentang Hak Tanggungan Atas Tanah Beserta
Patrick, P., & Kashadi. (2009). Hukum Jaminan. Semarang: Badan Penerbit UNDIP.
Peraturan Otoritas Jasa Keuangan Republik Indonesia Nomor 11/POJK.03/2020 tentang Stimulus Perekonomian Nasional Sebagai Kebijakan Countercyclical Dampak Penyebaran Corona Virus Disease 2019.
Philipus, M. H. (1987). Perlindungan Bagi Rakyat Di Indonesia. Surabaya: Bina Ilmu.
Putusan Mahkamah Konstitusi Republik Indonesia Nomor 21/PUU-XVIII/2020
Suryana, A., Rusastra, I. W., et al. (2020). Dampak Pandemi Covid-19 Perspektif Adaptasi dan Resiliensi Sosial Ekonomi Pertanian. Jakarta: IAARD PRESS.
Taufani, G., & Suteki. (2020). Metodelogi Penelitian Hukum (Filsafat, Teori dan Praktik). Depok: PT Raja Grafindo Persada.
Titin Roswitha Nursanthy, A. (2021). KEJAHATAN DUNIA MAYA DAN UJARAN KEBENCIAN HATE SPEECH DITINJAU DARI KITAB UU HUKUM PIDANA DAN UU NO 19 TAHUN 2016 TENTANG INFORMASI TRANSAKSI DAN ELEKTRONIK. Jurnal Ilmu Hukum The Juris, 5(1), 101-109. https://doi.org/10.56301/juris.v5i1.196
Wijaya, A. (2017). KEABSAHAN HAK GUNA BANGUNAN TERHADAP PUTUSAN PTUN SAMARINDA NOMOR 05/G/2014/PTUN.SMD. Jurnal Ilmu Hukum The Juris, 1(1), 47-70. https://doi.org/10.56301/juris.v1i1.24
Yamali, F. R., & Putri, R. N. (2020). Dampak Covid-19 Terhadap Ekonomi Indonesia. Journal of Economics and Business, 4(2).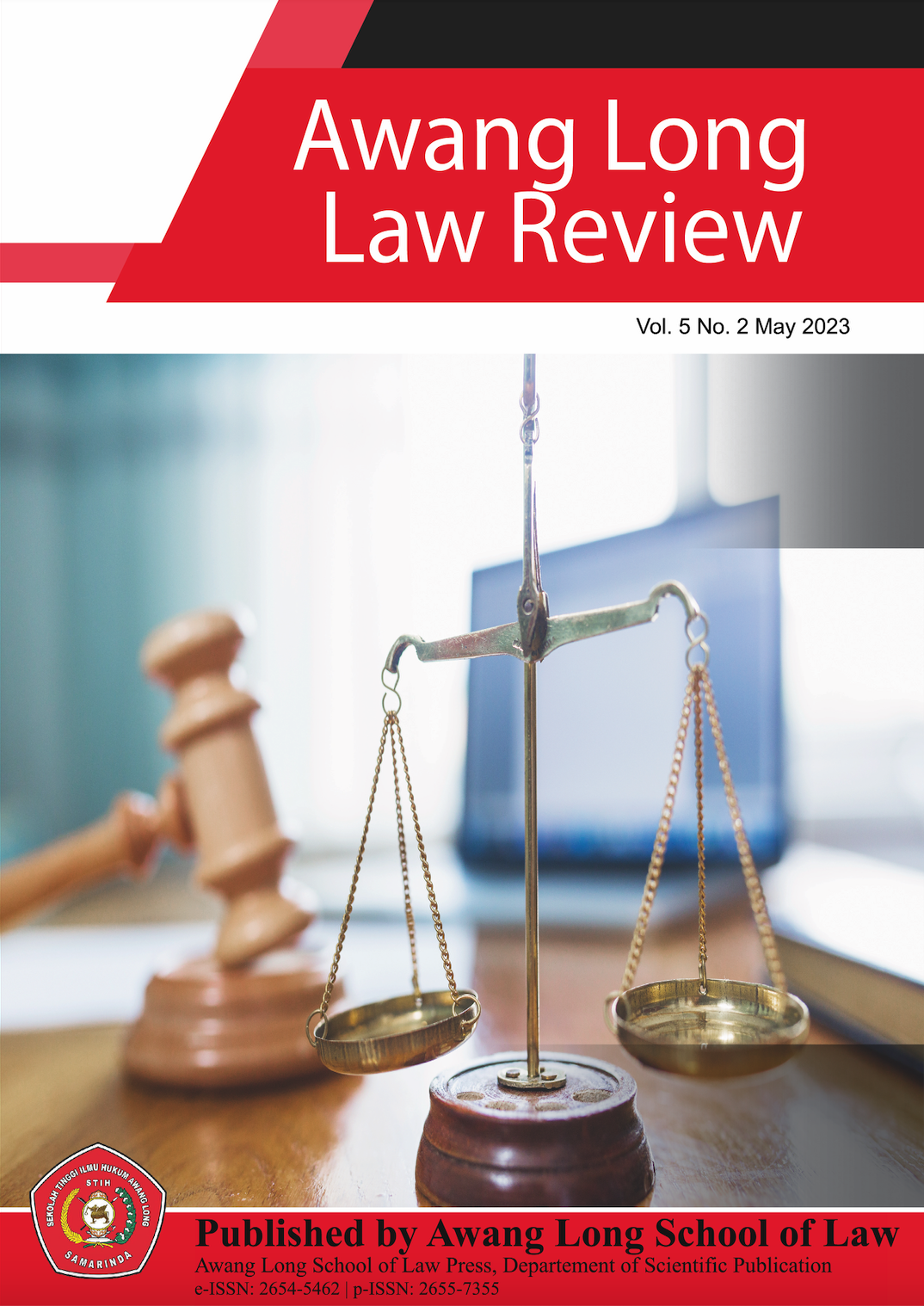 How to Cite
Adella Rachma Juliani, & Siti Malikhatun Badriyah. (2023). THE IMPACT OF THE COVID-19 PANDEMIC ON THE FULFILLMENT OF CREDIT WITH MORTGAGE RIGHTS IN LEGAL TERMS FOR THE DEBTOR. Awang Long Law Review, 5(2), 519-525. https://doi.org/10.56301/awl.v5i2.734
Copyright (c) 2023 Adella Rachma Juliani, Siti Malikhatun Badriyah
This work is licensed under a Creative Commons Attribution-ShareAlike 4.0 International License.