SUPERVISION OF LEGALLY REGISTERED COOPERATIVES AND SAVINGS AND LOAN COOPERATIVES INCLUDES MICROFINANCE INSTITUTIONS PERSPECTIVE
Joseline

Master of Notary, Faculty of Law Batam International University

Yudhi Priyo Amboro

Master of Notary, Faculty of Law Batam International University

Lu Sudirman

Master of Notary, Faculty of Law Batam International University
Keywords:
cooperatives, microfinance institutions, supervision
Abstract
Savings and loan cooperatives, which form the nucleus of the populace's economy, are not solely based on the kinship basis. As stated in the UUD 45's and the Cooperative Law's mandate, the supervisory function must be carried out optimally in order to serve the larger community because the sustainability of the national economy is heavily influenced by the expediency principle. This study employs a legislative approach and a qualitative analytical method in its descriptive analysis. In this study, it is discussed how to supervise KLM, a cooperative legal organization, following the implementation of UUP2SK, as well as how to supervise savings and loan cooperatives following the passage of UUP2SK. Based on these issues, it is known that: (1) The emergence of Microfinance Institutions with the legal status of cooperatives makes it necessary to pay closer attention and distinguish between cooperatives that are open loop & close loop in order to prevent similar cases from spreading to the larger community; (2) OJK as the authority given the mandate by the UUP2SK to guide and supervise the business operations of Savings and Loans Cooperatives over When creating derivative regulations for additional measures for licensing, regulation, and supervision of Savings and Loans Cooperatives, the goal is to avoid being easily seduced by phony investments with high interest rates.
Downloads
Download data is not yet available.
References
Arifin, B. (2023). UU P2SK and Reorganization of Savings and Loans Cooperatives.
Artha Mahendra Putra, & Rani Apriani. (2022). PERLINDUNGAN HUKUM TERHADAP KONSUMEN JASA LAYANAN PEMINJAMAN ONLINE ILLEGAL. Jurnal Ilmu Hukum The Juris, 6(2), 571-578. https://doi.org/10.56301/juris.v6i2.630
Aryani, Y. F., et al. (2021). Regulation Analysis of Microfinance Institutions in Indonesia.
Ashari. (2006). The Potential of Microfinance Institutions () in Rural Economic Development and Development Policies. Agricultural Policy Analysis, 4(2).
Asshidiqie, J. (2010). Towards a Democratic Law Country. Jakarta: PT Bhuana Popular Science.
Cape, K. T. P. (2023). Savings and Loans Cooperatives and the Ideal Form of Supervision.
Fajarianto, O., Tresnawati, N., Wulandari, T. C., & Ahmad, A. (2022). Differences of Mathematics Learning Results between Make a Match Cooperative Methods and Expository Methods. EDUTEC: Journal of Education And Technology, 6(1), 141-149.
Government Regulation No. 9 of 1995 concerning Implementation of Savings and Loan Business Activities by Cooperatives.
Hartono, S. (2005). Legal Politics Towards One National Legal System. Bandung: PT Alumni.
Jassica Halim, Ahmadi Miru, & Nurfaidah Said. (2022). AUTHORITY TO ACT HUSBAND OR WIFE IN MAKING A DEED OF TESTAMENTARY ESTATE (LEGAAT) ON JOINT PROPERTY IN MARRIAGE. Awang Long Law Review, 5(1), 60-72. https://doi.org/10.56301/awl.v5i1.534
Minister of Cooperatives & UKM Regulation No. 9 of 2018 concerning the Implementation and Development of Cooperatives Financial Services Authority.
Nugraha, R. P. (2017). Updating the Cooperative Law After the Constitutional Court Decision No. 28/PUU-XI/2013. Journal of Indonesian Legislation, 14(1).
Rahman, A. (2023). Menkop Teten: UU P2SK Becomes a Momentum for Purification of Cooperatives.
Regulation No. 19 of 2021 concerning Business Conduct for Microfinance Institutions.
Rizky Purnomo Aji, & Mas Agus Priyambodo. (2022). PENGEMUDI KENDARAAN BERMOTOR YANG MELANGGAR HUKUM YANG MENIMBULKAN KERUGIAN DAN KECELAKAAN LALU LINTAS YANG DI ATUR DALAM PASAL 1365 KUH PERDATA. Jurnal Ilmu Hukum The Juris, 6(2), 485-493. https://doi.org/10.56301/juris.v6i2.621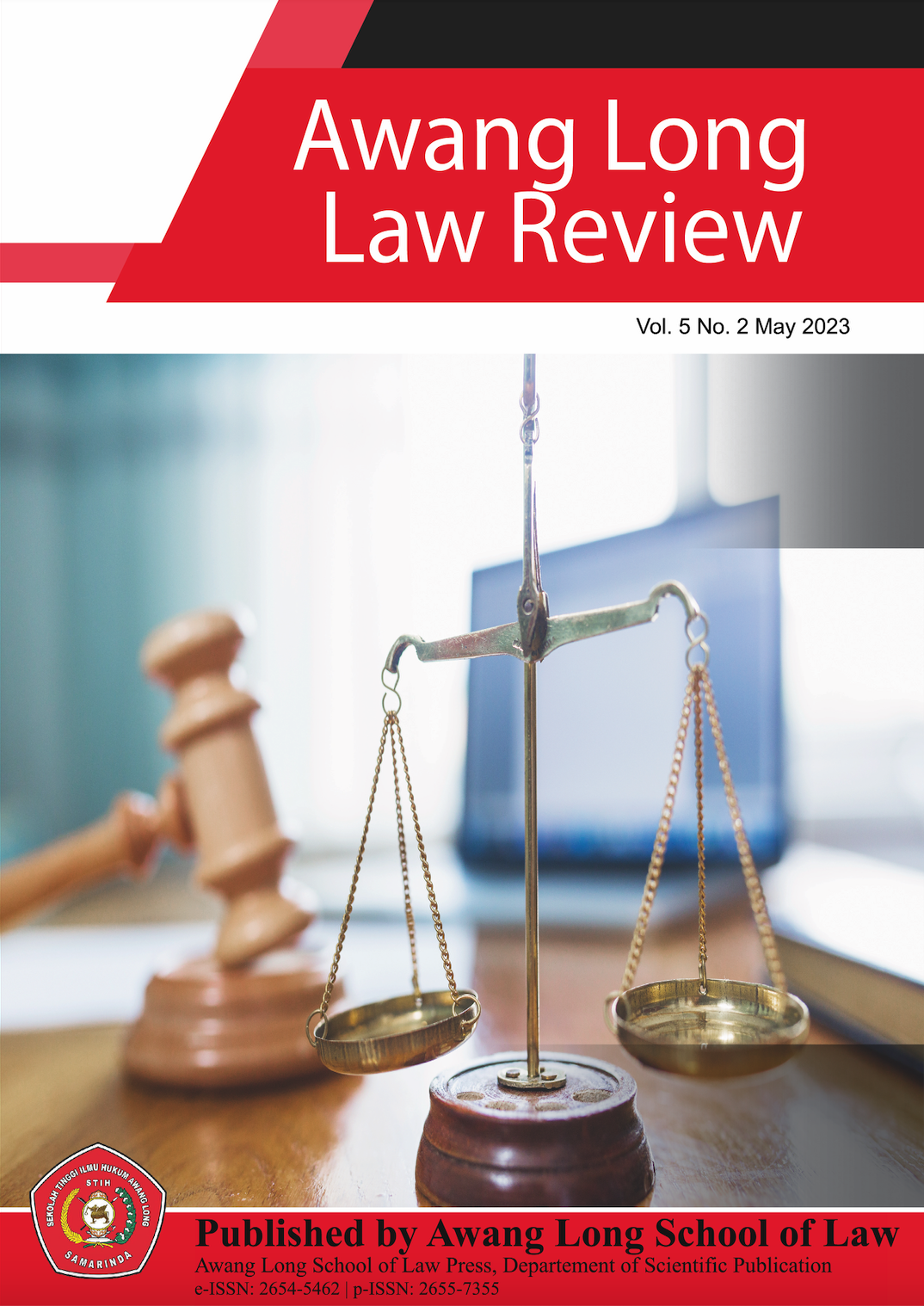 How to Cite
Joseline, Yudhi Priyo Amboro, & Lu Sudirman. (2023). SUPERVISION OF LEGALLY REGISTERED COOPERATIVES AND SAVINGS AND LOAN COOPERATIVES INCLUDES MICROFINANCE INSTITUTIONS PERSPECTIVE. Awang Long Law Review, 5(2), 486-493. https://doi.org/10.56301/awl.v5i2.758
Copyright (c) 2023 Joseline, Yudhi Priyo Amboro, Lu Sudirman
This work is licensed under a Creative Commons Attribution-ShareAlike 4.0 International License.