PARADIGM OF ENVIRONMENTAL PROTECTION AND MANAGEMENT OF HOUSEHOLD MEDICAL WASTE IN THE COVID-19 PANDEMIC: EXPECTATIONS AND CHALLENGES
Serlika Aprita

Faculty of Law, Universitas Muhammadiyah Palembang

Hasanal Mulkan

Faculty of Law, Universitas Muhammadiyah Palembang
Keywords:
covid-19, household medical waste, environnment, country
Abstract
The Covid-19 outbreak has had an impact on various sectors of life, including the environment. Medical waste in the community has increased in the new normal era of the Covid-19 pandemic, this can be seen from the existence of new adaptations in society, but in its application, household medical waste management is still an obstacle to this day. The approach method used is juridical-normative, with the type of dogmatic research, a form of perscriptive research on legal relations. The specification of this research is descriptive-analytical, the government continues to make various efforts in handling household medical waste. State responsibility as the basis for the implementation of environmental protection and management is carried out through the enforcement of environmental laws, namely administrative, civil and criminal law enforcement. Formulation of a new policy on the management of Infectious and Household Waste from Handling Covid 19.
Downloads
Download data is not yet available.
References
Arifin, S. (2012). Environmental Protection and Management Law in Indonesia. Jakarta: PT Sofmedia.
Axmalia, A., & Sinanto, R. A. (2021). Management of Household Infectious Waste during the COVID-19 Pandemic. KESKOM, 7(1).
Dewi, D. K., Syahrin, A., Arifin, S., & Tarigan, P. (2014). Environmental Permits in Relation to Enforcement of Environmental Administration and Environmental Crime Based on Law No. 32 of 2009 concerning Environmental Protection and Management (UUPPLH). Journal of Law, 2(1), University of North Sumatra.
Ilvira, R. F. (2020, September 29). Implementation of Campus Environmental Health in the Covid 19 Pandemic to Support Superior Human Resources. Forward Indonesia.
Makarao, M. T. (2006). Aspects of Environmental Law (Ctk. 1). Jakarta: PT Index.
Muhjad, H. (2015). Environmental Law: An Introduction to the Indonesian Context. Yogyakarta: Genta Publishing.
Mukhlis, & Luthfi, M. (2010). Contemporary Environmental Administration Law (Discourse on Environmental Management Monitoring and Development of Administrative Law in Indonesia). Malang: Equivalent Press.
Mukhlish, M. (2016). The Concept of Environmental Administration Law in Realizing Sustainable Development. Journal of the Constitution, 7(2).
Nurali, A. I. (2020). Guidelines for Waste Management for Referral Hospitals, Emergency Hospitals and Community Health Centers that Handle COVID-19 Patients. Ministry of Health of the Republic of Indonesia. Retrieved from hps://kesmas.kemkes.go.id/assets/upload/%0Adi r_519d41d8cd98f00/files/PedomanPengelolaanLimbah-Fasyankes-Covid19_1571.pdf
Prihartanto. (2020). Review of Research Results on Medical and Household B3 Waste Generation During the Covid-19 Pandemic Disaster. Jurnal Alami (e-ISSN: 2548-8635), 4(2).
Rahmadi, D. (2011). Environmental Law in Indonesia. Jakarta: PT. Rajagrafindo Persada
Sentosa, M. A. (1999). Proceedings of the Workshop on Legal Reform in the Field of Natural Resource Management. Jakarta: ICEL.
Suliastini, R. (2009). Comparison of Law no. 23 of 1997 and Law no. 32 of 2009 concerning Environmental Protection and Management. Faculty of Law, Eleven March University, Surakarta.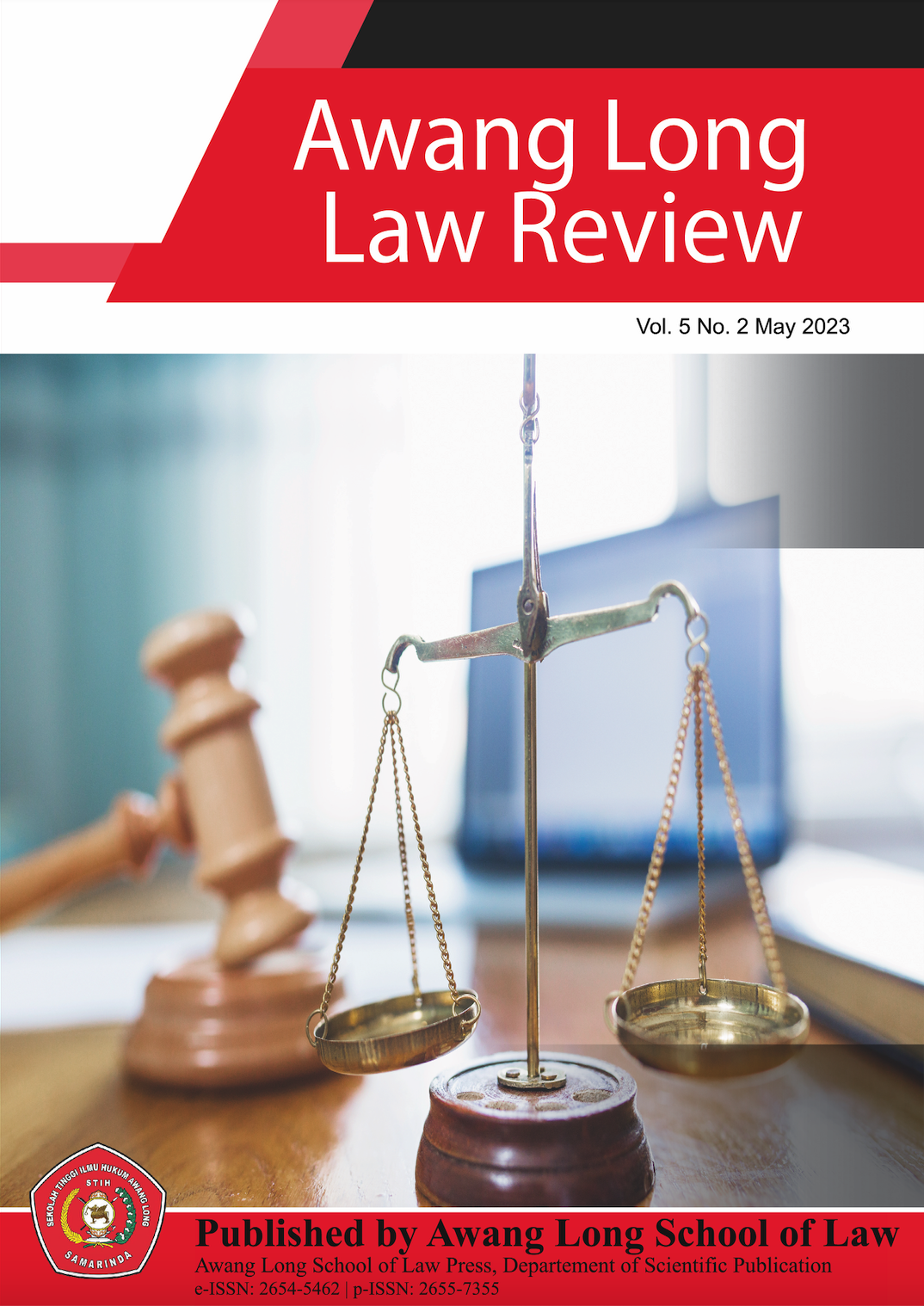 How to Cite
Aprita, S., & Mulkan, H. (2023). PARADIGM OF ENVIRONMENTAL PROTECTION AND MANAGEMENT OF HOUSEHOLD MEDICAL WASTE IN THE COVID-19 PANDEMIC: EXPECTATIONS AND CHALLENGES. Awang Long Law Review, 5(2), 610-616. https://doi.org/10.56301/awl.v5i2.769
Copyright (c) 2023 Serlika Aprita, Hasanal Mulkan
This work is licensed under a Creative Commons Attribution-ShareAlike 4.0 International License.