THE IMPLEMENTATION OF WOMEN'S EMPOWERMENT PROGRAM IN REALIZING GENDER EQUALITY
Fransiska Theresia Kune

Master of Public Administration Study Program, University of Tribhuwana Tunggadewi

M. Rifa'i

Master of Public Administration Study Program, University of Tribhuwana Tunggadewi

Willy Tri Hardianto

Master of Public Administration Study Program, University of Tribhuwana Tunggadewi
Keywords:
Implementation, Women Empowerment, Gender Equality
Abstract
Women's empowerment in realizing gender equality is one of the responsibilities of the Government and is conducted by government agencies, both central and regional. Problems which still occur to women today are the cases of violence and discrimination. This research was conducted by using descriptive qualitative research, the results of the study stated that there were the implementation of the women's empowerment program in realizing gender equality in Surabaya proven by the program named Gender Equality and Women's Empowerment. It provided several activities such as: Capacity Building of the Women's Organizational Association (GOW) at some sectors such as Politics, Economics, Social and Culture, Independent Business Incubation for productive age women, Implementation of Gender Socialization, Creative Houses for Low-Income Communities (MBR) especially for the productive age women who do not have a business yet by obtaining material on Entrepreneurship, Empowerment of UMKM in Surabaya by making masks and APD during the pandemic, and also Urban Farming for the community through the use of vacant land.
Downloads
Download data is not yet available.
References
Agotino, Leo. (2014). Dasar-Dasar Kebijakan Publik. Bandung. Alfabeta.
Ardiani, Lilis. (2021). Program Inkubasi Bisnis Solusi Pemberdayan Perempuan Prasejatera. Sekolah Tinggi Ilmu ekonomi Surabaya. Jurnal Ekonomi, Manajemen, Akuntasi, 6(1).
Bugin, Burhan. (2007). Metode Penelitihan Kualitatif. Jakarta. Perenada Media Grup.
Devi, Syamala. (2014). Women's Empowerment And Economic Development. Universitas KL.
Djoharwinarlien, Sri. (2012). Dilema Kesetaraan Gender: Refleksi Dan Respons Praksis.
Gholipour, Aryan. (2010). Impact Model of Women's Empowerment. International.
Ginting, Elitttaria. (2020). Kebijakan Pemberdayaan Perempuan Di Bidang Ekonomi Dalam Upaya Mewujudkan Pembangunan Berkelanjutan Ramah Gender.
Gultom, Maidin. (2014). Perlindungan Hukum Terhadap Anak Dan Perempuan. Bandung. PT. Remaja
Instuksi Presiden (Inpres) No. 9 tahun 2000 tentang Pengarusutamaan
Kania, Dede. (2015). Hak Asasi Perempuan dalam Peraturan Perundang-Undangan
Maimanah, Sitti. (2015). Implementasi Program Pemberdayaan Perempuan. Universitas Islam Negeri Sunan Gunung Djati. Jurnal Konstitusi, 12(4).
Marthalina. (2018). Pemberdayaan Perempuan Dalam Mendukung Usaha Mikro, Kecil, dan Menengah (Umkm) Di Indonesia. Institut Pemerintahan Dalam Negeri.
Moleong J, Lexy. (2011). Metode Penelitian Kualitatif. Ed Revisi. Bandung. PT. Remaja.
Nur, Suriani. (2019). Pemberdayaan Perempuan Untuk Kesetaraan Gender.
Nurhaeni A D, Ismi. (2010). Model Pemberdayaan Perempun Miskin Melalui Pembangunan Pemberdayaan Pemerintahan, (3)1.
Peraturan Perundang-Undang 1945 Tentang Hak Asasi Manusia.
Rani C. Madani. (2021). Pemberdayan Perempuan Melalui Pemanfaatan Potensi Budaya Lokal. UIN Syarif Hidayatullah Jakarta. Jurnal Ilmu Kesejateraan Sosial.
Setyawati, Tri. (2015). Strategi Pemberdayaan Perempuan Melalui Kelompok
Soetomo. (2013). Pemberdayaan Masyarakat. Yogyakarta: PT Pustaka Pelajar.
Trisnawati, Opi. (2022). Kesetaraan Gender Terhadap Perempuan Dalam Di bidang perguruan Tinggi Pendidikan. Universitas Sultan Agen Tritayasa. Jurnal Pendidikan Sosiologi Dan Humaniora, 13(2).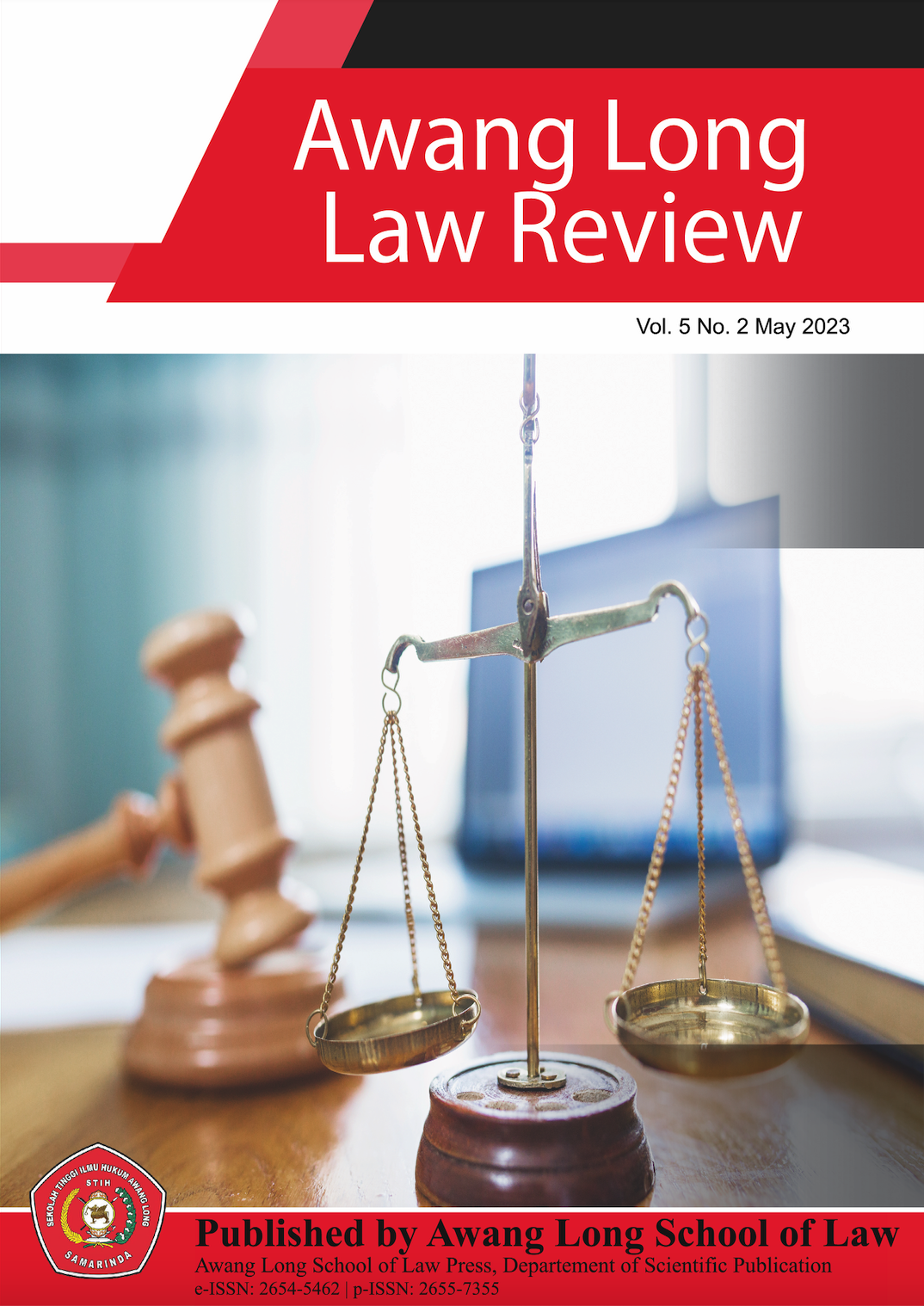 How to Cite
Kune, F. T., M. Rifa'i, & Willy Tri Hardianto. (2023). THE IMPLEMENTATION OF WOMEN'S EMPOWERMENT PROGRAM IN REALIZING GENDER EQUALITY. Awang Long Law Review, 5(2), 617-623. https://doi.org/10.56301/awl.v5i2.772
Copyright (c) 2023 Fransiska Theresia Kune, M. Rifa'i, Willy Tri Hardianto
This work is licensed under a Creative Commons Attribution-ShareAlike 4.0 International License.