IMPLEMENTATION OF CRIMINAL DEVELOPMENT IN CORRECTION INSTITUTIONS
Jihan Annisa Mujaddidah

Faculty of Law, Hasanuddin University

Said Karim

Faculty of Law, Hasanuddin University

Syamsuddin Muchtar

Faculty of Law, Hasanuddin University
Keywords:
Development, Convicts, Penitentiary
Abstract
This study aims to analyze the implementation of prisoner coaching in Class IIB Polewali Mandar Penitentiary and to analyze the factors that influence the implementation of prisoner coaching in Class IIB Polewali Mandar Penitentiary. This research is empirical research. The data sources used consist of primary data, namely data from informants at Class IIB Polewali Mandar Penitentiary. Secondary data, namely data obtained from books, the internet, and related legislation. Data collection techniques are by interviews and direct observation. All of these data were analyzed by descriptive qualitative. The results of the study show that (1) the implementation of convict coaching in Class IIB Polewali Mandar Penitentiary has been carried out quite well personality development and independence development. Personality development includes fostering religious awareness, fostering awareness of the nation and state, fostering intellectual abilities, fostering legal awareness and skills. While fostering self-sufficiency includes bread making, carpentry, electric welding, hydroponics, barbershop, paving blocks, handicrafts from sticks, laying hens, fisheries, goat farming, sewing, workshops, agriculture, and laundry. (2) The factors that influence the implementation of convict coaching at the Polewali Mandar Class IIB Penitentiary include legal factors, law enforcement factors, facilities or facilities, community factors, and cultural factors, each of which has an interrelated role so that the implementation run optimally.
Downloads
Download data is not yet available.
References
Adealmuqni, R., Riza, M., & Muchtar, S. (2022). Supervision by Supervisory Council and Supervisor of the Temporary Land Deed Official. Daengku: Journal of Humanities and Social Sciences Innovation, 2(5), 701-709.
Direktorat Jenderal Pemasyarakatan. (Analisis Kapasitas Lembaga Pemasyarakatan di Seluruh UPT Pemasyarakatan.
Dwiatmojo, H. (2013). Pelaksanaan Pidana dan Pembinaan Narapidana Tindak Pidana Narkotika. Jurnal Perspektif, XVIII(2), 64
Harsono, Y., & Fajarianto, O. (2021, November). Strategy for Improving the Quality of Human Resources to Improve the Performance of Small and Medium Enterprises in Kepulauan Seribu, North Jakarta. In The 1st International Conference on Research in Social Sciences and Humanities (ICoRSH 2020) (pp. 382-392). Atlantis Press.
Muchtar, S., & Mirzana, H. A. (2022). The Effectiveness Of The Application Of The Last Resort Principle On Child Residivists In The Child Criminal Justice System. Al Daulah: Jurnal Hukum Pidana dan Ketatanegaraan, 61-74.
Pahare, A. A. K. D., Muchtar, S., & Basri, M. (2023). Construction Analysis of Penal Mediation and Restorative Justice on Crime Settlement in the Indonesian Criminal Justice System. LEGAL BRIEF, 12(1), 77-86.
Panjaitan, F.H., Al murhan, Al murhan, & Purwati. (2014). Kecemasan Pada Narapidana di Lembaga Pemasyarakatan Narkotika Kelas IIA Bandar Lampung. Jurnal Keperawatan, 10(1), 122.
Panungkelan, W.C.V. (2016). Penerapan Asimilasi di Rutan Menurut Undang-Undang Nomor 12 Tahun 1995 Tentang Pemasyarakatan. Lex Crimen, 4(2), 98-106.
Puspita, C.A. (2018). Tanggung Jawab Pemerintah Dalam Pelanggaran Hak Narapidana dan Tahanan Pada Lembaga Pemasyarakatan/Rumah Tahanan. Jurnal Panorama Hukum, 3(1), 37.
Rumadan, I. (2013). Problem Lembaga Pemasyarakatan di Indonesia dan Reorientasi Tujuan Pemidanaan. Jurnal Hukum dan Peradilan, 2(2), 12.
Situmorang, V.H. (2019). Lembaga Pemasyarakatan sebagai Bagian dari Penegakan Hukum (Correctional Institution as Part of Law Enforcement). Pusat Pengkajian dan Pengembangan Kebijakan Badan Penelitian dan Pengembangan Hukum dan HAM Kementerian Hukum dan HAM RI, 13(1), 72.
Sofyan, A., & Aziza, N. (2016). Hukum Pidana. Makassar: Pustaka Pena Press.
Subroto, M. (2021). Strategi Pembinaan Terhadap Narapidana di Dalam Rutan. Jurnal Pendidikan Kewarganegaraan Undiksha, 9.
Sujatno, A. (2008). Pencerahan di Balik Penjara. Jakarta: Sinar Grafika.
Waluyo, B. (2008). Pidana dan Pemidanaan. Jakarta: Sinar Grafika.
Zulkarnain, S., & Susanti, H. (2019). Guidance of Prisoners Overcapacity in Lapas Class II at Pekanbaru. International Journal of Innovation, 10(4), 276.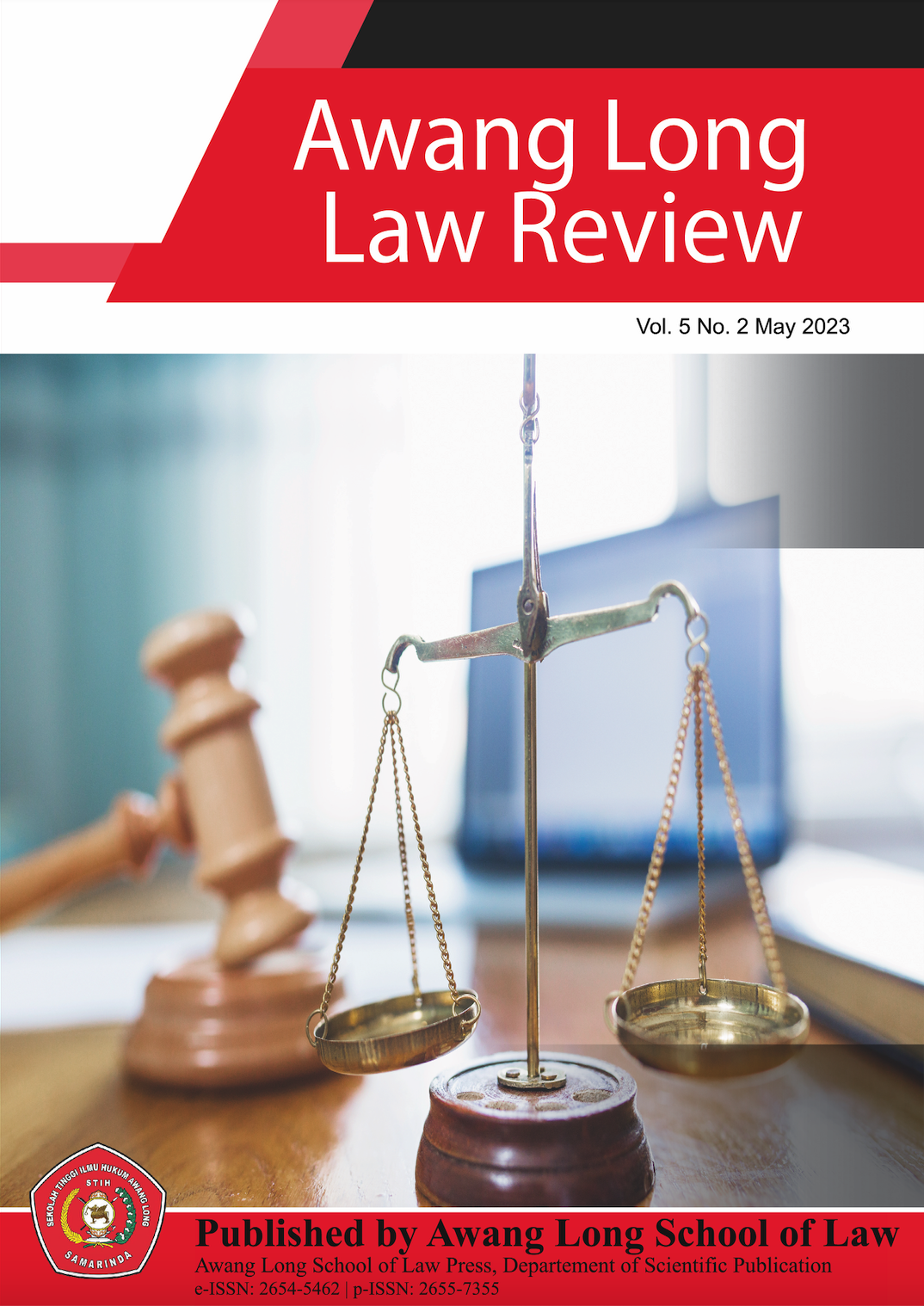 How to Cite
Mujaddidah, J. A., Said Karim, & Syamsuddin Muchtar. (2023). IMPLEMENTATION OF CRIMINAL DEVELOPMENT IN CORRECTION INSTITUTIONS. Awang Long Law Review, 5(2), 654-660. https://doi.org/10.56301/awl.v5i2.782
Copyright (c) 2023 Jihan Annisa Mujaddidah, Said Karim, Syamsuddin Muchtar
This work is licensed under a Creative Commons Attribution-ShareAlike 4.0 International License.