THE OBLIGATIONS AND LIABILITIES OF NOTARIES IN PROVIDING SOCIAL SERVICES IN ACCORDANCE WITH THE IMPLEMENTATION OF THEIR POSITIONS
Ellyca

Master of Notary, Faculty of Law Universitas Indonesia

Winanto Wiryomartani

Master of Notary, Faculty of Law Universitas Indonesia
Keywords:
Obligations and Responsibilities of a Notary, Social Services, Position of a Notary Font
Abstract
Notary as a public official authorized to make authentic deeds is one of the practitioners in the field of law who is obliged to provide social services for the community, especially for the poor. The notary's obligation to provide social services can help provide legal certainty as a form of a rule of law because it can prevent disputes, especially in terms of land ownership, land control. In this research to ensure the implementation of an objective research and in accordance with applicable legal principles, this research uses normative juridical research methods with an approach through applicable laws and regulations or through a statute approach and general legal concepts or conceptual approach. This prevention can be done if people who are unable as legal subjects know clearly their rights and obligations and have access to legal services. However, in general, social services in the field of law are currently only in the form of free legal assistance for parties in litigation, while it is still rare to find social services in the form of consulting assistance or notary services which are still little known to the less fortunate. Result of this research is writing intended to examine the obligations and responsibilities of a notary in providing social services to the community, especially for people who can't afford it.
Downloads
Download data is not yet available.
References
Adjie, H. (2008). Hukum Notaris di Indonesia. Bandung: Rafika.
Anshori, A.G. (2009). Asas Jabatan Notaris: Perspektif Hukum dan Etika. Yogyakarta: UII Press.
Harsono, Y., & Fajarianto, O. (2020). The Influence of Human Resources Quality on Improving the Performance of Small and Medium Enterprises in Thousand Islands, North Jakarta. IJEBD (International Journal of Entrepreneurship and Business Development), 3(4), 415-425.
HR, R. (2006). Hukum Administrasi Negara. Jakarta: Raja Grafindo.
Mega Kartika, Julian Parningotan, Jonni Josua Lumbantobing, Yoseph Imando P Hutahaean, & Julianus Jesaya Purba. (2021). TINJAUAN YURIDIS BENTUK PERLINDUNGAN INVESTOR OLEH MANAJER INVESTASI DALAM MENGELOLA REKSA DANA. Jurnal Ilmu Hukum The Juris, 5(2), 319-325. https://doi.org/10.56301/juris.v5i2.319
Notodisoerjo, R.S. (1993). Hukum Notariat di Indonesia. Jakarta: Raja Grafindo.
Regina Ayu Sepriani, & Sonyendah Retnaningsih. (2021). PERTANGGUNGJAWABAN HUKUM DALAM PEMBELAAN NOTARIS TERHADAP INVESTIGASI YANG DILAKUKAN OLEH MAJELIS PEMERIKSA PUSAT NOTARIS. (STUDI KASUS PUTUSAN MAJELIS PEMERIKSA PUSAT NOTARIS PUTUSAN MPPN NOMOR 03/B/MPPN/2017 DAN PUTUSAN PENGADILAN TATA USAHA NEGARA JKT. Jurnal Ilmu Hukum The Juris, 5(2), 257-265. https://doi.org/10.56301/juris.v5i2.306
Sidharta. (2006). Moralitas Profesi Hukum Suatu Tawaran Kerangka Berpikir. Bandung: Refika Aditama.
Soekanto, S. (1986). Beberapa Cara dan Mekanisme Dalam Penyuluhan Hukum. Jakarta: Pradnya Paramita.
Tedjosaputro, L. (2003). Penjatuhan Sanksi dan Profesi Hukum. Semarang.
Thamrin, H. (2017). KAJIAN BUILD OPERATE TRANSFER (BOT) DALAM HUKUM PERJANJIAN DI INDONESIA. Jurnal Ilmu Hukum The Juris, 1(2), 109-125. https://doi.org/10.56301/juris.v1i2.27
Waluyo, B. (1996). Sanksi Hukum Dalam Undang-Undang Notaris. Jakarta: Sinar Grafika.
Wijanarko, D. S., Eleanora, F. N., Efrianto, G., & Fajarianto, O. (2021). Juridical Analysis of Terrorism Criminal Sanctions in Indonesia (Case Study of Imam Santoso Criminal Acts). LINGUISTICA ANTVERPIENSIA, 1043-1050.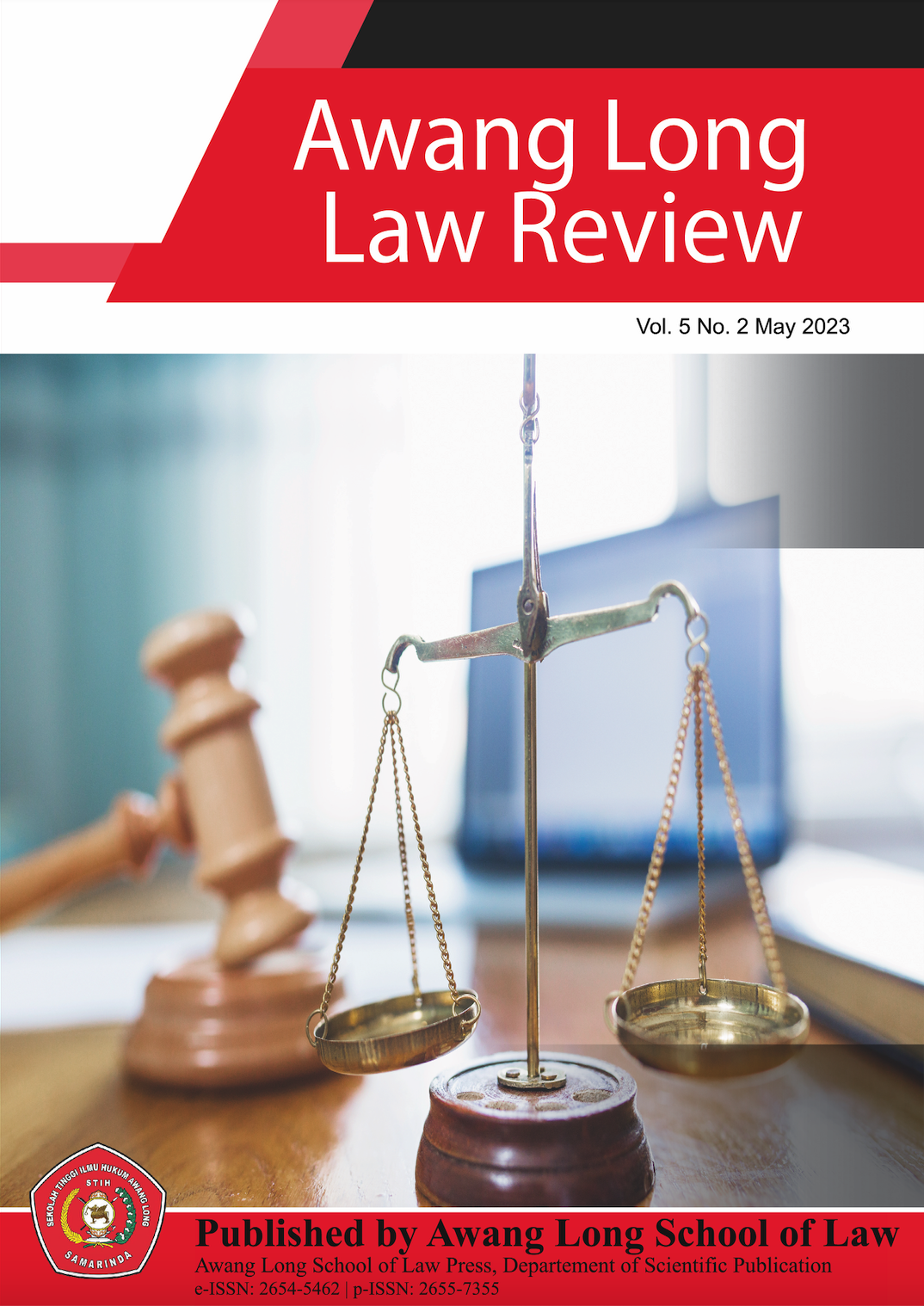 How to Cite
Ellyca, & Wiryomartani, W. (2023). THE OBLIGATIONS AND LIABILITIES OF NOTARIES IN PROVIDING SOCIAL SERVICES IN ACCORDANCE WITH THE IMPLEMENTATION OF THEIR POSITIONS. Awang Long Law Review, 5(2), 587-591. https://doi.org/10.56301/awl.v5i2.791
Copyright (c) 2023 Ellyca, Winanto Wiryomartani
This work is licensed under a Creative Commons Attribution-ShareAlike 4.0 International License.