THE CRIME OF FORCED MARRIAGE AGAINST CHILDREN IN THE PERSPECTIVE OF CRIMINAL LAW
Nur Azisa

Faculty of Law, Hasanuddin University

Syamsuddin Muchtar

Faculty of Law, Hasanuddin University

M. Aris Munandar

Faculty of Law, Hasanuddin University

Ismail Iskandar

Faculty of Law, Hasanuddin University

Nurul Hikmah

Faculty of Law, Hasanuddin University

Fhildzha Zhafirin

Faculty of Law, Hasanuddin University
Keywords:
child marriage, forced marriage, sexual violence crime
Abstract
Child marriage is a phenomenon that stilloccurs frequently in Indonesia today. After the promulgation of The Law of the Republic of Indonesia Number 12 Year2022 concerning Crimes of Sexual Violence(TPKS Law), child marriage is categorizedas a criminal act of sexual violence basedon forced child marriage. The criminalprovisions related to forced child marriages, the TPKS Law is disharmony with The Law of the Republic of Indonesia Number 16 Year 2019 concerning Amendments to The Law of the Republic of Indonesia Number 1 Year 1974 concerning Marriage (MarriageLaw), in which the law accommodates thepossibility of filing a dispensation with ageand cultural considerations. Meanwhile, thisis very inconsistent with the principlesadhered to in the TPKS Law. So that thiscan lead to obscuur libel (obscurity) in lawenforcement in the future. Given that theTPKS Law still does not have to implementregulations, it is still classified as an aspiredlaw (ius constituendum).
Downloads
Download data is not yet available.
References
Abu Hurairah, Kekerasan Terhadap Anak, Nuasa Press, Bandung, 2012.
Agus Yudha Handoko, Hukum Perjanjian Asas Proporsionalitas dalam Kontrak Komersial, Kencana Prenadamedia Group, Jakarta, 2010.
Ashrawi Muin, 2021, Menengok Angka Pernikahan Anak di Sulsel yang Cukup Tinggi, see https://sulsel.idntimes.com/news/sulsel/ashrawi-muin/menengok-angka-pernikahan-anak-di-sulsel-yang-cukup-tinggi?page=all
Biro Hukum dan Humas Kementerian Pemberdayaan Perempuan dan Perlindungan Anak, 2023, KEMEN PPPA : Perkawinan Anak Di Indonesia Sudah Mengkhawatirkan, see https://www.kemenpppa.go.id/index.php/page/read/29/4357/kemen-pppa-perkawinan-anak-di-indonesia-sudah-mengkhawatirkan
Eny Kusmiran, Kesehatan Reproduksi Remaja dan Wanita, Salemba Medika, Jakarta, 2011.
Harkristuti Harkrisnowo, "Pancasila Sebagai Paradigma Pembangunan Nasional Bidang Hukum dan Hak Asasi Manusia".
Ismantoro Dwi Yuwono, Penerapan Hukum Dalam Kasus Kekerasan Seksual Terhadap Anak, Medpress Digital, Yogyakarta, 2015.
M. Aris Munandar, Audyna Mayasari Muin, and Hijrah Adhyanti Mirzana, "Telaah Ketentuan Pidana Kekarantinaan Kesehatan Berdasarkan Undang-Undang Nomor 6 Tahun 2018 bagi Kesehatan Notaris dan Masyarakat Era Pandemi Covid-19", Jurnal Hukum dan Kenotariatan, Vol. 5. No. 1, February 2021.
M. Aris Munandar, et.al., 2022, Hukum Pidana Kekerasan Seksual, Penerbit KBM Indonesia, Yogyakarta.
Ninik Rahayu, "Politik Hukum Penghapusan Kekerasan Seksual di indonesia", Bhuana Ilmu Populer, 2021.
Nur Suhra Wardyah, 2022, DP3AP2KB Sulsel Perkawinan Anak Masih Banyak Di 4 Daerah, see https://www.antaranews.com/berita/3050757/dp3ap2kb-sulsel-perkawinan-anak-masih-banyak-di-4-daerah
Peter Mahmud Marzuki, Penelitian Hukum, Kencana Prenada Media Group, Jakarta, 2010.
Peter Mahmud Marzuki, Penelitian Hukum (Edisi Revisi), Kencana Prenadamedia Group, Jakarta, 2017.
Syamsi Nur Fadhila, 2022, Duh! Angka Perkawinan Anak di Sulsel Masih Tinggi, Ini Datanya, see https://makassar.sindonews.com/read/787529/710/duh-angka-perkawinan-anak-di-sulsel-masih-tinggi-ini-datanya-1654243566
Zahrotul Uyun, "Kekerasan Seksual Pada Anak: Stres Pasca Trauma", Proceeding Seminar Nasional: Selamatkan Generasi Bangsa dengan Membentuk Karakter Berbasis Kearifan Lokal, 2015.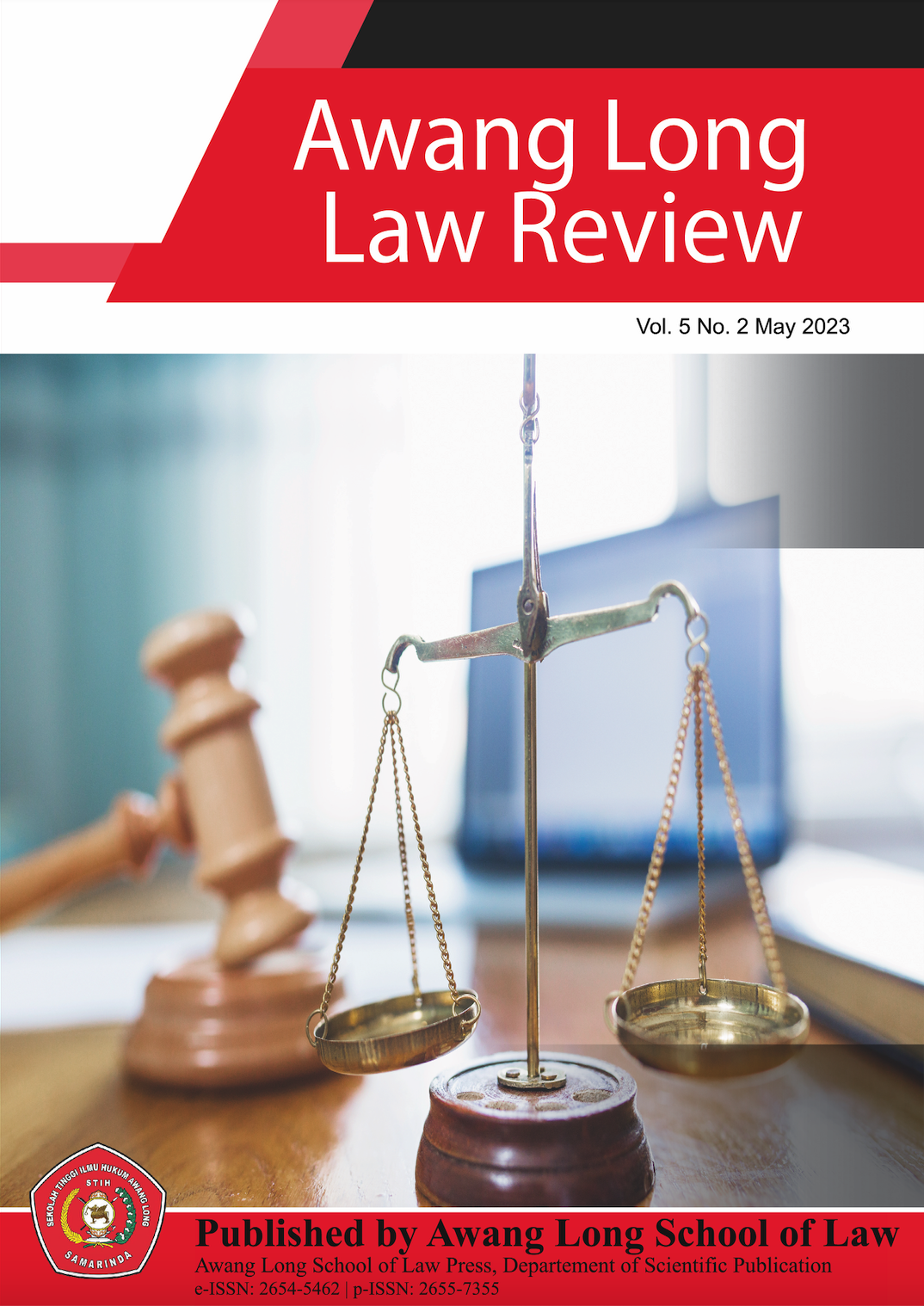 How to Cite
Azisa, N., Syamsuddin Muchtar, M. Aris Munandar, Ismail Iskandar, Nurul Hikmah, & Fhildzha Zhafirin. (2023). THE CRIME OF FORCED MARRIAGE AGAINST CHILDREN IN THE PERSPECTIVE OF CRIMINAL LAW. Awang Long Law Review, 5(2), 669-674. https://doi.org/10.56301/awl.v5i2.799
Copyright (c) 2023 Nur Azisa, Syamsuddin Muchtar, M. Aris Munandar, Ismail Iskandar, Nurul Hikmah, Fhildzha Zhafirin
This work is licensed under a Creative Commons Attribution-ShareAlike 4.0 International License.