TINJAUAN YURIDIS TERHADAP TINDAK PIDANA PENGGELAPAN DALAM JABATAN DIHUBUNGKAN DENGAN KITAB UNDANG-UNDANG HUKUM PIDANA
Zatmika Nur Farhan

Program Studi Ilmu Hukum, Fakultas Hukum, Universitas Buana Perjuangan Karawang

Deny Guntara

Prodi Ilmu Hukum, Fakultas Hukum Universitas Buana Perjuangan Karawang

Muhamad Abas

Prodi Ilmu Hukum, Fakultas Hukum Universitas Buana Perjuangan Karawang
Keywords:
Criminal act, Embezzlement in office, Decision
Abstract
This study aims to find out the basic considerations of the Panel of Judges in passing a decision on each of the defendants who were proven to have jointly committed the crime of embezzlement while serving at PT. Maybank Indonesia Finance Karawang Branch. Apart from that, this study also aims to investigate and find out why the splitting of the case file was carried out between the two defendants in the same case, namely the case of embezzlement in office which was carried out jointly by the two defendants, resulting in a different decision in
the same case. The research method used in this study is normative juridical approach, namely a legal approach that is carried out by examining the rules or norms and rules related to the crime of embezzlement in office by way of literature study, namely by reading, citing and examine the theories related to the problems studied. Then the main data used is secondary data and supporting data is primary data. This data analysis technique was obtained by legal reasoning techniques, where this technique describes the reasons for existence, namely the law
is relational, the law is correlated with diversity. Deny Herdian Bin Sudaryono's actions caused material losses that were smaller than those caused by Firdaus Alam Perdana, SE Bin Syofran. This is one of the judge's considerations in looking at aggravating circumstances and mitigating circumstances. The case files were separated between the two defendants, so that the two defendants could act as reciprocal witnesses.
Downloads
Download data is not yet available.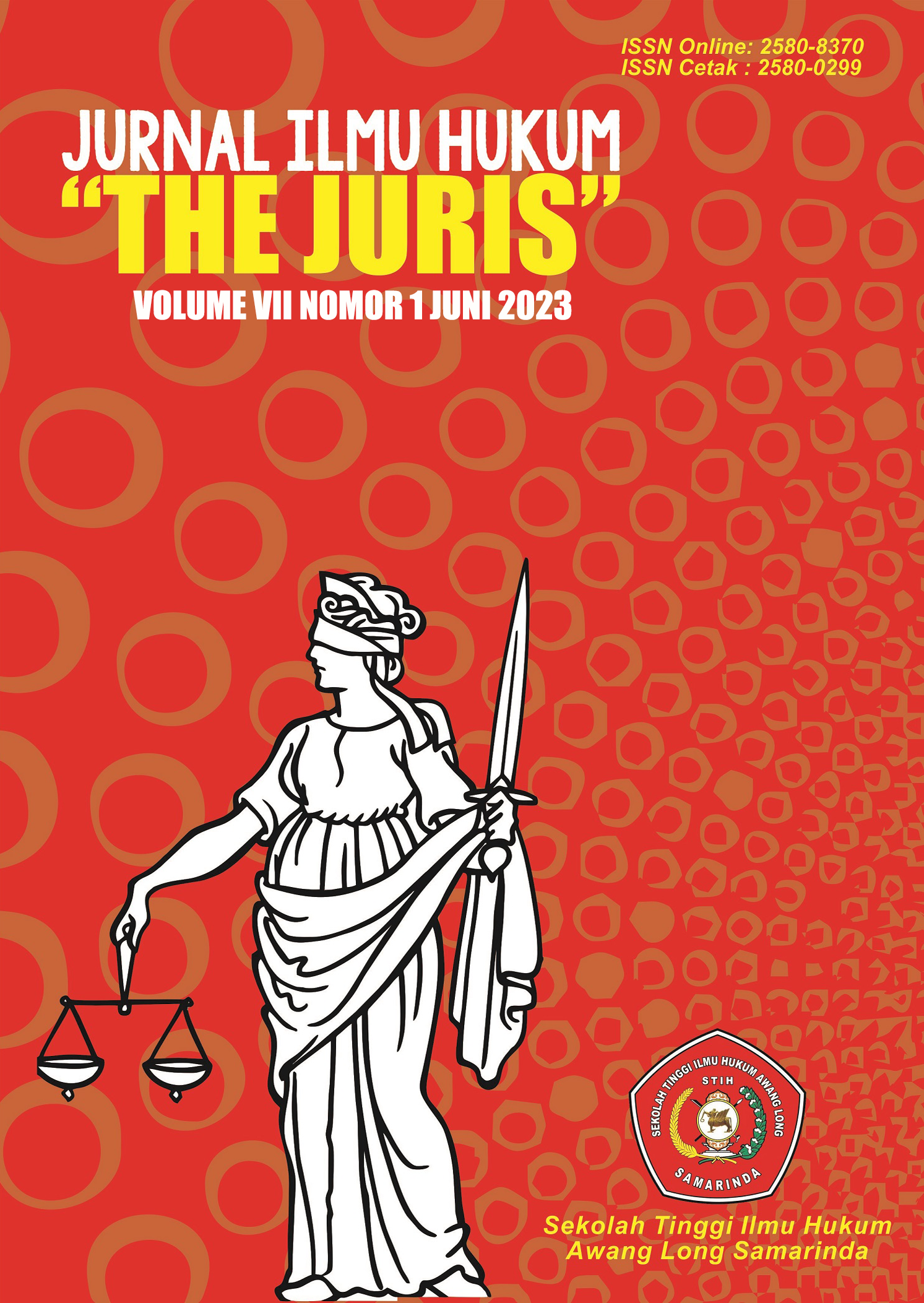 How to Cite
Farhan, Z. N., Deny Guntara, & Muhamad Abas. (2023). TINJAUAN YURIDIS TERHADAP TINDAK PIDANA PENGGELAPAN DALAM JABATAN DIHUBUNGKAN DENGAN KITAB UNDANG-UNDANG HUKUM PIDANA. Jurnal Ilmu Hukum The Juris, 7(1), 118-132. https://doi.org/10.56301/juris.v7i1.698
Copyright (c) 2023 Zatmika Nur Farhan, Deny Guntara, Muhamad Abas
This work is licensed under a Creative Commons Attribution-ShareAlike 4.0 International License.