LEGAL PROTECTION OF INDONESIAN CITIZENS WHO CONDUCT MARRIAGE WITH FOREIGN CITIZENS RELATED TO THE ACQUISITION OF LAND RIGHTS
Sisi Widya Putri

Universitas Jayabaya Jakarta

Ismail Ismail

Universitas Bung Karno
Keywords:
Legal Protection, Mixed Marriage, Acquisition of Land Rights
Abstract
The official bond in marriage between Indonesian citizens and foreign nationals is sustained through direct interactions. The union of Indonesian citizens and foreign citizens in Indonesia is commonly referred to as Mixed Marriages. The present study employs a normative juridical research approach, specifically relying on library law research or secondary data, which draws upon primary, secondary, and tertiary legal sources. The study employed a research methodology that incorporated the use of statutory, conceptual, and case-based approaches. The process of collecting legal materials involved the identification and inventorying of advantageous legal regulations, literary publications, academic journals, and other relevant sources of legal information. The analysis of legal materials is conducted through the application of grammatical and systematic interpretation techniques. The research findings indicate that the implementation of legal regulations pertaining to land rights in mixed marriages without a marriage agreement has undergone changes following the ratification of Constitutional Court Decision Number 69/PUU-XIII/2015. This has resulted in modifications to the provisions outlined in Article 29 paragraphs (1) to (4) of The Marriage Law, which now offer legal protection to Indonesian citizens who engage in mixed marriages with foreigners and seek to obtain land rights. Specifically, in the absence of a marriage agreement, such a union can lead to the creation of joint assets. It is advisable for couples who engage in cross-cultural marriages to establish a matrimonial agreement that outlines the division of property between spouses. It is also important for Indonesian citizens to adhere to the legal provisions and regulations pertaining to such agreements, and to ensure that they have secured property ownership rights, particularly with regards to land
Downloads
Download data is not yet available.
References
Abdulkadir Muhammad. Hukum Perdata Indonesia . PT.Citra Aditya Bakti, Bandung, 2010
Abdul Manan, Aneka Masalah Hukum Perdata Islam di Indonesia, Kencana Preneda Media Group, Jakarta, 2006
Adrian Sutadi, Tinjauan Hukum Petanahan, Pradnya Paramita, Jakarta, 2009.
Afandi, Ali, Hukum Waris, Hukum Keluarga, Hukum Pembuktian. Renika Cipta, Jakarta, 2004
Ahmadi Miru dan Sakka Pati, Hukum Perikatan, Rajawali Pers, Jakarta, 2008.
Andi Tahir Hamid. Beberapa Hal Baru Tentang Peradilan Agama Dan Bidangnya, Sinar Grafika, Jakarta, 2005.
Andy Hartanto, Hukum Harta Kekayaan Perkawinan dan Permasalahannya, Laksbang Presindo, Yogyakarta, 2017.
Bachsan Mustafa, Hukum Agraria dalam Persfektif, Remadja Karya Cv, Bandung, 1984.
Bayu Seto Hardjowahono, Dasar – Dasar Hukum Perdata Internasional, Ctk. Keempat, Bandung, Citra Aditya Sakti, 2006.
C.S.T Kansil, Modul Hukum Perdata, Jakarta, Pradnya Paramita, 2006.
Fajar, Mukti, ND dan Yulianto Achmad, "Dualisme Penelitian Hukum Normatif dan Empiris". Yogyakarta: Pustaka Pelajar, 2010.
Hilman Hadikusuma, Hukum Perkawinan Adat, Citra Adi Bakti, Bandung, 1990.
Hilman Hadikusuma, Hukum Perkawinan Indonesia Menurut Perundang-Undangan, Hukum Adat, Hukum Agama, Mandar Maju, Bandung, 1990.
H.A Damanhuri, Segi-segi Hukum Perjanjian Perkawinan Harta Bersama, C.V Mandar Maju, Bandung, 2007.
Indah Riyanti, "Perlindungan Hukum Hak-Hak Warga Negara Indonesia Bagi Anak Dalam Perkawinan Campuran Seumur Hidup". Jurnal Pro Hukum, Volume 12, Nomor 3, 2023.
I Made Arya Dwisana, Made Gde Subha Karma Resen, "Pembuktian Harta Bersama Dalam Perceraian Perkawinan Campuran Tanpa Perjanjian Kawin di Indonesia". Jurnal Hukum Kenotariatan, Volume 06, Nomor 03, 2021.
I Made Udiana, Rekontruksi Pengaturan Penyelsaian Sengketa Penanaman Modal Asing ,Udayana University Press, Denpasar, 2011.
Irma Devita Purnamasari, Kiat-kiat Cerdas, Mudah dan Bijak Memahami Masalah Hukum Waris, Mizan Pustaka, Bandung, 2014.
Isnaeni, Moch, Hukum Benda dalam Burgerlijk Wetboek. PT. Revka Petra Media, Surabaya, 2014.
Rizky Amalia, Sri Setyadji, "Kedudukan Hukum Hak Atas Tanah Dalam Perkawinan Campuran". Jurnal Hukum, Volume 03, Nomor 2, 2023.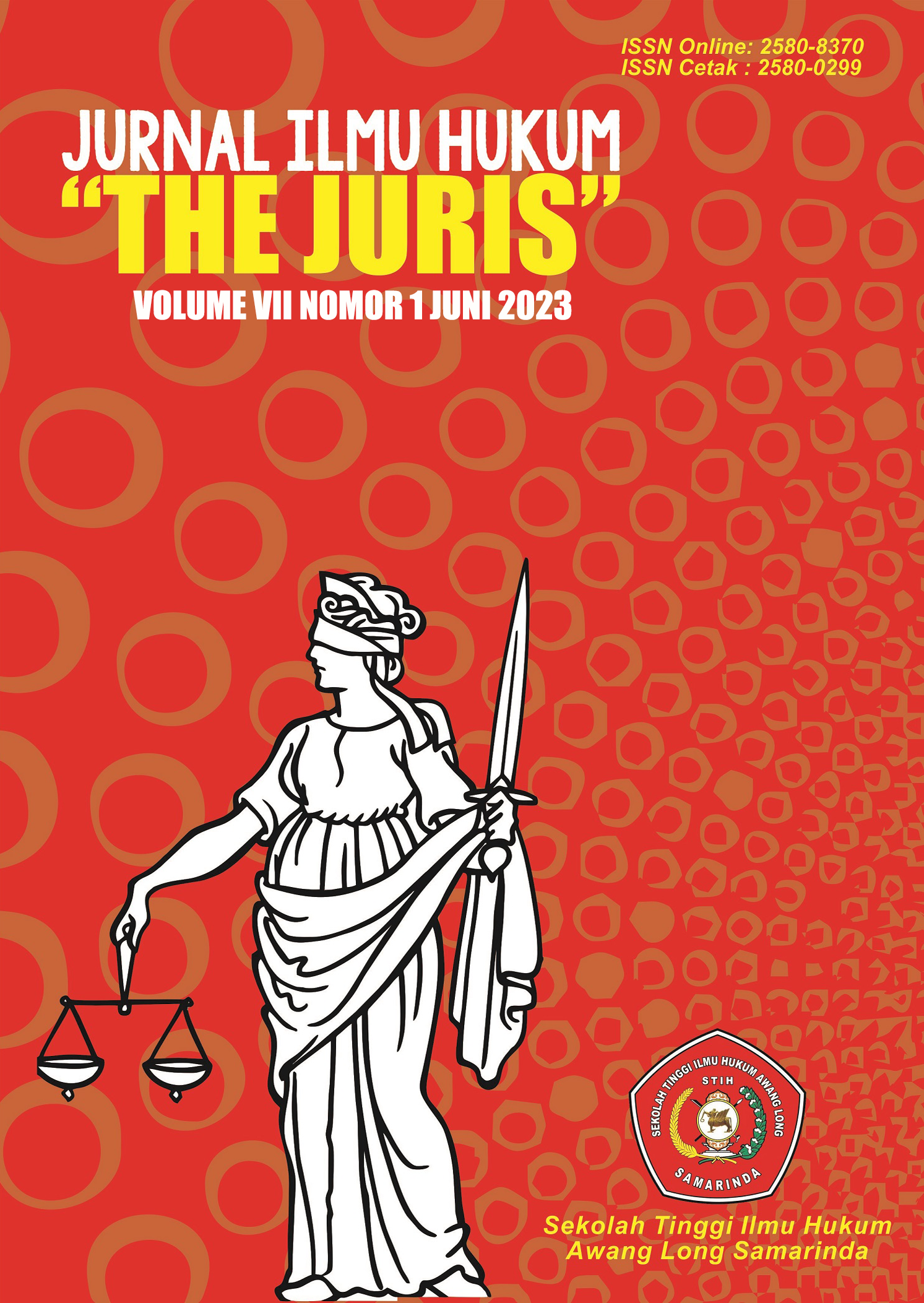 How to Cite
Putri, S. W., & Ismail, I. (2023). LEGAL PROTECTION OF INDONESIAN CITIZENS WHO CONDUCT MARRIAGE WITH FOREIGN CITIZENS RELATED TO THE ACQUISITION OF LAND RIGHTS. Jurnal Ilmu Hukum The Juris, 7(1), 44-50. https://doi.org/10.56301/juris.v7i1.779
Copyright (c) 2023 Sisi Widya Putri, Ismail Ismail
This work is licensed under a Creative Commons Attribution-ShareAlike 4.0 International License.