SENGKETA JUAL BELI TANAH BERSTATUS SURAT KETERANGAN TANAH: KEDUDUKAN HUKUM DAN PENYELESAIANNYA DALAM REGULASI HUKUM POSITIF DAN HUKUM ADAT DAYAK
Ahmad Setiawan

Universitas Palangka Raya

Agus Mulyawan

Universitas Palangka Raya

Nuraliah Ali

Universitas Palangka Raya
Keywords:
Jual Beli, Sengketa Tanah, Surat Keterangan Tanah, Hukum Adat Dayak
Abstract
Disputes over land occur in almost every region in Indonesia. One of the cases of legal problems in the field of buying and selling land is the dispute over the sale and purchase of land with the status of a land certificate with overlapping ownership. Dispute resolution methods are litigation or through court and non-litigation or outside the court such as through Nganju Dayak customary law. This study aims to examine how the legal position of land ownership certificates (SKT) is in the perspective of positive law in Indonesia and how to resolve it according to the Adat law of the Dayak Ngaju of Central Kalimantan. This type of research is empirical juridical legal research. The types or sources of data used are primary data and secondary data. The research instruments used were interviews and library research. Data obtained based on library research and field data were analyzed by qualitative descriptive analysis. The position of SKT is based on positive law in Indonesia as stated in Article 76 paragraph (3) Permenag No.3/1997, a certificate of rights does not meet the requirements to be considered a statement of physical ownership of a land parcel if it does not fulfill the six specified conditions. Land which is based only on HCS ownership, does not have sufficiently strong evidence of ownership of the land and is directed to increase the legality of ownership certificates or SHM as proof of ownership that is authentic and legal with legal certainty. Settlement of land sale and purchase disputes based on customary law of the Dayak Nganju through Kedamangan Jekan Raya is pursued by prioritizing the peace process and prioritizing the principle of kinship, the decision does not cause resentment and dissatisfaction, without resentment which ends in the breakup of good relations between the two.
Downloads
Download data is not yet available.
References
Ainun Fadillah, F., & Amalia Putri, S. (2021). ALTERNATIF PENYELESAIAN SENGKETA DAN ARBITRASE (LITERATURE REVIEW ETIKA). Jurnal Ilmu Manajemen Terapan, 2(6), 744–756. https://doi.org/10.31933/jimt.v2i6.486

Alfrisandi, J. R. (2021). Aktualisasi Hak-Hak Masyarakat Adat Dayak Melalui Peran Lembaga Dewan Adat Dayak Kalimantan Tengah (DAD-KT). Wacana: Jurnal Ilmu Sosial Dan Ilmu Politik Interdisiplin, 8(2), 321–341.

Atikah, N. (2022). Kedudukan Surat Keterangan Tanah sebagai Bukti Kepemilikan Hak Atas Tanah dalam Sistem Hukum Pertanahan Indonesia. Notary Law Journal, 1(3), 263–289. https://doi.org/10.32801/nolaj.v1i3.29

Bakri, M. (2011). Hak menguasai tanah oleh negara: paradigma baru untuk reforma agraria (Edisi Revi). Malang: Universitas Brawijaya Press.

Dakhoir, A. (2017). Proceeding international islamic research forum: kebijakan hukum pengembangan ekonomi dan industri keuangan syariah. Palangka Raya: IAIN Palangka Raya.

Fahrimal, Y., & Safpuriyadi, S. (2018). KOMUNIKASI STRATEGIK DALAM PENYELESAIAN KONFLIK AGRARIA DI INDONESIA. Jurnal Riset Komunikasi, 1(1), 109–127. https://doi.org/10.24329/jurkom.v1i1.18

Hamidah, U. (2014). PERAN KECAMATAN SEBAGAI PERANGKAT DAERAH DALAM PELAYANAN PERTANAHAN (Studi pada Kecamatan Tanjung Karang Timur). FIAT JUSTISIA:Jurnal Ilmu Hukum, 5(2). https://doi.org/10.25041/fiatjustisia.v5no2.57

Handayani, T. (2017). Legalitas Surat Keterangan Tanah yang Dikeluarkan oleh Kepala Desa sebagai Dasar Transaksi Jual Beli Tanah (Studi Kasus Putusan Mahkamah Agung No. 31. pk/tun/2005). Premise Law Jurnal, 20, 1–18.

Hapsari, G. (2018). Kedudukan Hukum Perjanjian Pengikatan Jual Beli (PPJB) Dalam Hal Terjadi Sengketa. Universitas Islam Indonesia.

Hidayat, M. R., & Komarudin, P. (2020). PENYELESAIAN SENGKETA WAKAF MELALUI JALUR LITIGASI DAN NON-LITIGASI. Al-Adl : Jurnal Hukum, 11(2), 184. https://doi.org/10.31602/al-adl.v11i2.1936

Ita Surayya. (2022). PENDAFTARAN TANAH DALAM HUKUM AGRARIA LAND REGISTRATION IN AGRARIAN LAW. The Juris, 6(2), 299–305. https://doi.org/10.56301/juris.v6i2.595

Jenri Ranteallo, & Yana Sukma Permana. (2022). TINJAUAN YURIDIS TINDAK PIDANA PENYEROBOTAN TANAH ADAT DI KABUPATEN TORAJA UTARA. The Juris, 6(2), 437–440. https://doi.org/10.56301/juris.v6i2.614

Karlina, K., Wiko, G., & Alhadiansyah, A. (2023). KEPASTIAN HUKUM PERALIHAN HAK ATAS TANAH MELALUI JUAL BELI BERDASARKAN SKT. Tanjungpura Acta Borneo Jurnal, 1(2).

Kristian, K., Ali, N., Bangas, K. D., & Supiya, S. (2021). Escorting Democracy with Local Wisdom: Depiction of Regional Election Supervision in the midst of Pandemic. JPPUMA Jurnal Ilmu Pemerintahan Dan Sosial Politik Universitas Medan Area, 9(2), 185–196. https://doi.org/10.31289/jppuma.v9i2.5447

Lakburlawal, M. A. (2016). Akses Keadilan Bagi Masyarakat Adat Dalam Penyelesaian Sengketa Tanah Ulayat Yang Diberikan Hak Guna Usaha. DHAPER: Jurnal Hukum Acara Perdata, 2(1), 59–75. https://doi.org/https://doi.org/10.36913/jhaper.v2i1.24

Moleong, L. J. (2017). Metodologi Penelitian Kualitatif. Bandung: Remaja Rosdakarya.

Mustikawati, I. G. (2013). Sengketa Lahan di Indonesia. The Review, 1, 78–97. Retrieved from https://www.habibiecenter.or.id/img/publication/a2060a47f89d17c84f3bfc4b472a7808.pdf#page=86

Mutia Evi Kristhy, Harry, Suriansyah murhaini, Thea Farina, Heriamariaty, Sangking Mahar, & Kiki Kristanto. (2022). PENGAKUAN DAN PERLINDUNGAN HUKUM TERHADAP HAK-HAK TRADISIONAL MASYARAKAT HUKUM ADAT DAYAK MA'ANYAN DI KECAMATAN AWANG KABUPATEN BARITO TIMUR. Jurnal Komunikasi Hukum (JKH), 8(2), 27–43. https://doi.org/10.23887/jkh.v8i2.47087

Rachman, F., Diwirya, I. J., & Kartadinata, A. (2022). TINJAUAN YURIDIS PENEGAKAN HUKUM TERHADAP PRAKTEK PEMALSUAN SURAT KETERANGAN TANAH DI PROVINSI LAMPUNG. Viva Themis: Jurnal Ilmu Hukum, 5(2), 129–145. https://doi.org/10.24967/vt.v5i2.1770

Rejekiningsih, T. (2016). ASAS FUNGSI SOSIAL HAK ATAS TANAH PADA NEGARA HUKUM (SUATU TINJAUAN DARI TEORI, YURIDIS DAN PENERAPANNYA DI INDONESIA). Yustisia Jurnal Hukum, 5(2). https://doi.org/10.20961/yustisia.v5i2.8744

Rosita, R. (2017). ALTERNATIF DALAM PENYELESAIAN SENGKETA (LITIGASI DAN NON LITIGASI). Al-Bayyinah, 1(2), 99–113. https://doi.org/10.35673/al-bayyinah.v1i2.20

Santoso, U. (2013). Pendaftaran Tanah dan Peralihan Hak atas Tanah (Cetakan II). Jakarta: Kencana Prenada Media Group.

Sari, I. (2020). Hak-hak atas tanah dalam sistem hukum pertanahan di Indonesia menurut Undang-Undang Pokok Agraria (UUPA). Jurnal Mitra Manajemen, 9(1), 15–33.

Simarmata, R. (2015). Kedudukan Hukum dan Peluang Pengakuan Surat Keterangan Tanah Adat (Oktober). Jakarta: Kemitraan Partnership. Retrieved from https://media.neliti.com/media/publications/45228-ID-kedudukan-hukum-dan-peluang-pengakuan-surat-keterangan-tanah-adat.pdf

Soekanto, S. (2007). Pengantar Penelitian Hukum. Jakarta: Universitas Indonesia Press.

Sugiyono. (2013). Metodelogi Penelitian Kuantitatif, Kualitatif Dan R&D [Quantitative Research Methodology, Qualitative Research, and R&D]. Bandung: Alfabeta.

Suryanto, D. (2019). PENGELOLAAN, PEMANFAATAN DAN KEABSAHAN HAK KEPEMILIKAN ATAS TANAH ADAT BERDASARKAN PERATURAN ADAT DIWILAYAH KEDAMANGAN KECAMATAN TIMPAH KABUPATEN KAPUAS. Belom Bahadat, 7(2). https://doi.org/10.33363/bb.v7i2.242

Tampang, G. J. (2017). Pendaftaran Tanah Negara Menjadi Hak Milik Dalam Perspektif Hukum Pertanahan di Indonesia. Lex Administratum, 5(4).

Thalib, M. Z. (2019). SURAT KETERANGAN TANAH (SKT) YANG DIBUAT KEPALA DESA SEBAGAI ALAS HAK DALAM RANGKA PENDAFTARAN TANAH. Jurnal Yustisiabel, 3(1), 91. https://doi.org/10.32529/yustisiabel.v3i1.325

Wardhani, M. D. (2022). Kesadaran Hukum Masyarakat Dalam Rangka Pendaftaran Tanah Di Desa Banyuurip Kecamatan Gunem Kabupaten Rembang (Universitas Islam Sultan Agung). Universitas Islam Sultan Agung. Retrieved from http://repository.unissula.ac.id/id/eprint/25934

Waskito, & Arnowo, H. (2019). Penyelenggaraan Pendaftaran Tanah di Indonesia (Cetakan 1). Jakarta: Kencana Prenada Media Group.

Wildan, M., Nuridin, & Imam Asmarudin. (2020). Perlindungan Hukum Atas Jual Beli Hak Atas Tanah Yang Belum Bersertipikat. Diktum : Jurnal Ilmu Hukum, 8(1), 70–82. https://doi.org/10.24905/diktum.v8i1.73

Yopie, S. (2015). Dampak Kedudukan Kelembagaan Adat Dayak Kedamangan Dalam Peraturan Daerah Provinsi Kalimantan Tengah Nomor 16 Tahun 2008 Tentang Kelembagaan Adat Dayak Di Provinsi Kalimantan Tengah Terhadap Hak-Hak Masyarakat Hukum Adat Dayak. UAJY.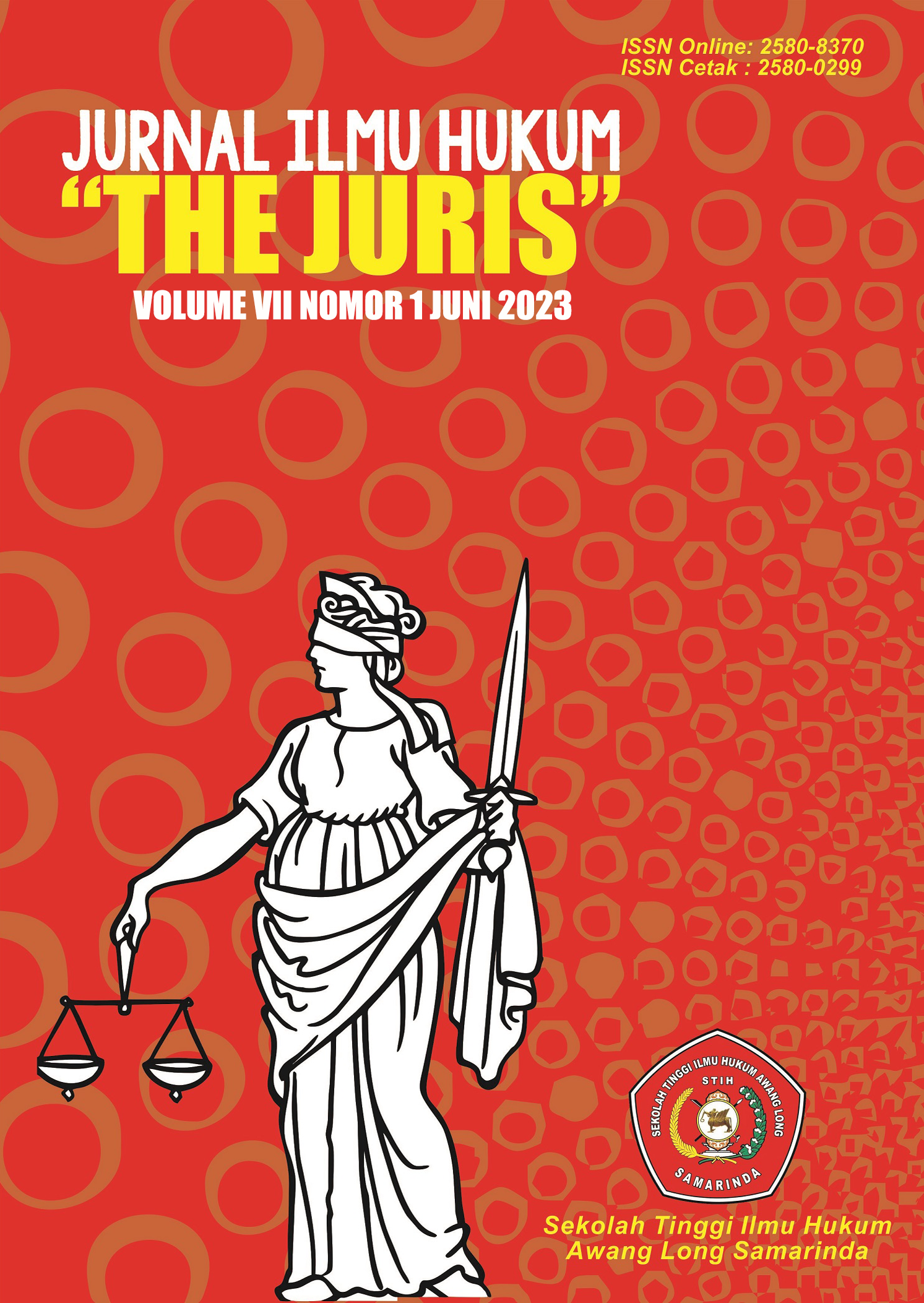 How to Cite
Setiawan, A., Mulyawan, A., & Ali, N. (2023). SENGKETA JUAL BELI TANAH BERSTATUS SURAT KETERANGAN TANAH: KEDUDUKAN HUKUM DAN PENYELESAIANNYA DALAM REGULASI HUKUM POSITIF DAN HUKUM ADAT DAYAK. Jurnal Ilmu Hukum The Juris, 7(1), 36-43. https://doi.org/10.56301/juris.v7i1.780
Copyright (c) 2023 Ahmad Setiawan, Agus Mulyawan, Nuraliah Ali
This work is licensed under a Creative Commons Attribution-ShareAlike 4.0 International License.