PERLINDUNGAN PATEN BAGI PEMOHON ASING ATAS INVENSINYA
Pratiwi Citra Kurnia Wilujeng

Program Magister Hukum Universitas Lambung Mangkurat

Djumadi

Dosen Program Magister Hukum Universitas Lambung Mangkurat

Yulia Qamariyanti

Dosen Program Magister Hukum Universitas Lambung Mangkurat
Keywords:
Patent Protection, Invention, Foreign Investors
Abstract
The objectives to be achieved in the writing of the thesis are to analyze and criticize patent protection against foreign inventions in laws and regulations and to analyze and criticize the juridical consequences for patent applicants as well as how to apply for patents abroad, procedures and patent registration flows. In writing this thesis, the author uses research with a type of normative legal research with the nature of research, namely prescriby of a study that aims to get suggestions on what to do to overcome certain problems. Legal materials in the form of primary and secondary legal materials obtained from literature studies. Processing and analysis of legal materials is carried out by analyzing deductive to inductive legal materials. From the results of the study there is a conclusion that is. First. The existence of patent protection for foreign inventions to provide a sense of comfort, security and increase foreign investors investing in Indonesia. As well as to increase economic growth, open jobs for people in Indonesia and open new areas that were initially isolated into open, developing, developed and increasing foreign inventions. Second. Juridical consequences for foreign applicants with some changes to the applicable regulations aimed at opening up broad employment for the people of Indonesia.
Downloads
Download data is not yet available.
References
AUSAID, 2002, "Intellectual Property Rights", Textbook, Indonesia-Australia.
Djumadi. 2017. Hubungan Hukum : Pemberi Kerja-Pekerja/Peneliti Selaku Inventor Dalam Perspektif Hak Paten, Bantul : Inset Grafika.
Hadjon, Philipus M. 1987. Perlindungan Hukum Bagi Rakyat Di Indonesia. Surabaya : Bina Ilmu.
Ishaq. 2018. Dasar-Dasar Ilmu Hukum. Jakarta : Sinar Grafika. hlm 697.
Kardoyo, Hadi dkk. 2010. Kebijakan Paten Dalam Mendorong Aktivitas Inovasi Di Indonesia. Jakarta : Lembaga Ilmu Pengetahuan (LIPI) Pusat Penelitian Perkembangan Iptek (Pappiptek).
Kartika, Shanti Dwi. Politik Hukum Undang-Undang Cipta Kerja. Info singkat. Vol XII. No.20//II/Puslit/Oktober/2020.
Permana, Sony Hendra. "Proyeksi Dampak Omnibus Law Undang-Undang Cipta Kerja Terhadap Ekonomi Di Indonesia" Vol.XII, No.19/I/Puslit/Oktober/2020.
Purwaningsih, Endang. 2005. Perkembangan Hukum Intellectual Property rights Kajian Hukum Terhadap Hak Atas Kekayaan Intelektual dan Kajian Komparatif Hukum Paten , Bogor : Ghalia Indonesia.
Putri, Dewi Sartika, "Penerapan Omnibus Law Cipta Kerja Di Indonesia Efektif Atau Tidak? Studi Tinjauan Berdasarkan Sistem Hukum Di Indonesia", Jurnal Hukum & Pembangunan 51 No.2 (2021). hlm 523-540.
Putusan MK No. 91/PUU-XVIII-2020.
Rahardjo, Satjipto. 2000. Ilmu Hukum. Bandung : PT Citra Aditya Bakti. hlm 53.
Ramli, Ahmad M. 2004. Cyber Law dan HAKI dalam Sistem Hukum Indonesia. Bandung: Refika Aditama. hlm. 1
Rosiah, Anis. 2019. Alasan Hukum Pembentukan Pasal 20 Undang-Undang Nomor 13 Tahun 2016 Tentang Paten Di Indonesia, Yogyakarta : Universitas Islam Indonesia.
Soekanto, Soerjono. 1986. Pengantar Penelitian Hukum Universitas Indonesia, Jakarta.
Undang-Undang Nomor 13 Tahun 2016 Tentang Paten (Tambahan Lembaran Negara Republik Indonesia Nomor 5922).
Undang-Undang Nomor 11 Tahun 2020 Tentang Cipta Kerja (Tambahan Lembaran Negara Republik Indonesia Nomor 6573).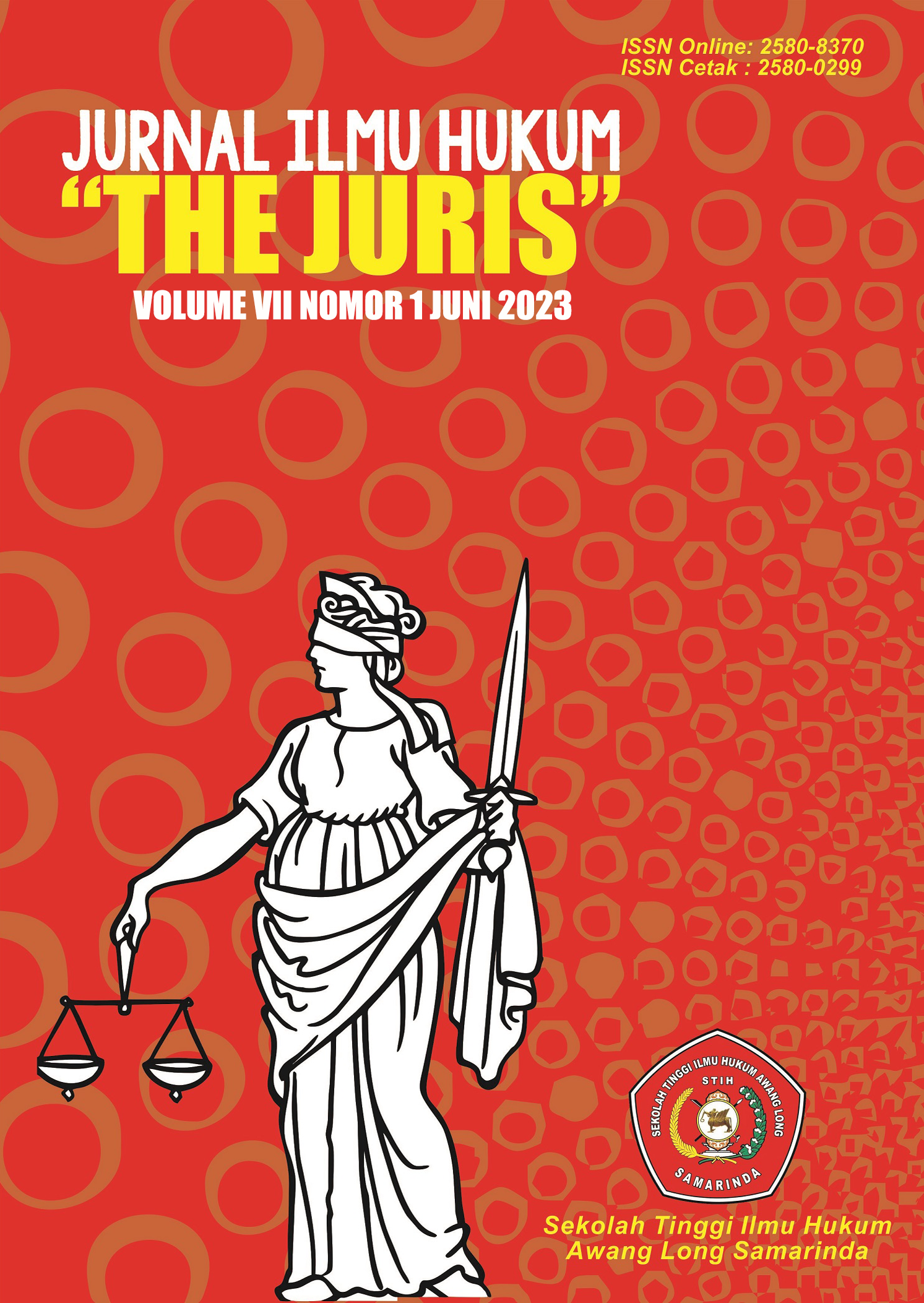 How to Cite
Pratiwi Citra Kurnia Wilujeng, Djumadi, & Yulia Qamariyanti. (2023). PERLINDUNGAN PATEN BAGI PEMOHON ASING ATAS INVENSINYA. Jurnal Ilmu Hukum The Juris, 7(1), 1-6. Retrieved from https://ejournal.stih-awanglong.ac.id/index.php/juris/article/view/819
Copyright (c) 2023 Pratiwi Citra Kurnia Wilujeng, Djumadi, Yulia Qamariyanti
This work is licensed under a Creative Commons Attribution-ShareAlike 4.0 International License.