PENGOPTIMALKAN PENDEKATAN KEADILAN RESTORATIF DALAM MENANGGULANGI KEJAHATAN YANG DIAKIBATKAN GAYA HIDUP HEDONISME
Agung Salman Alfarisi

Universitas Islam Nusantara

Ahmad Muhammad Ridwan Saeful Hikmat

Universitas Islam Nusantara
Keywords:
hedonism, restorative justice, crime, lifestyle
Abstract
There is no denying that technological development has grown rapidly and become more sophisticated, impacting on people's lifestyles. Poverty has been known to result in a high proportion of low-income offenders. In fact, the backlog of cases continues to grow every day, causing tremendous suffering for justice seekers. The purpose of this research is to see the extent of the implementation of restorative justice in repairing criminals caused by the hedonism lifestyle. This research is a normative legal research. The results of the study found that the current restorative justice approach with education and discussion can reduce the level of recidivism. Criminal law procedural justice must pay attention to human dignity and values, with the aim of repairing, educating, preventing repetition of crimes, and integrating offenders back into society. Thus, restorative justice aims to build a criminal justice system that is sensitive to the problems of victims and offenders from the effects of hedonism. This approach is a critique of the criminal justice system that tends to be retributive and ignores the role of victims, perpetrators, and society so that the individualization of offenders with the nature of hedonism becomes a focus in restorative justice.
Downloads
Download data is not yet available.
References
Adlet, Y., Rima, D., Akbolatova, M., Akynkozha, Z., & Beaver, K. M. (2023). Criminal Justice System Processing and Victimization: Results from a Longitudinal Study of Males and Females. Victims & Offenders, 18(2), 374–391. Routledge.
Alexander, L., & Ferzan, K. K. (2009). Crime and Culpability: A Theory of Criminal Law,: Cambridge: Cambridge University Press.
Alma, B. (2004). Diferensiasi Sosial dan Stratifikasi Sosial di Indonesia. jakarta: Rajawali Press.
Arief, B. N. (2001). Masalah penegakan hukum dan kebijakan penanggulangan kejahatan. Bandung: Citra Aditya Bakt.
Asshiddiqie, J. (2014). Peradilan Etik dan Etika Konstitusi. Jakarta: Sinar Grafika.
Atasasmita, R. (2005). Teori dan Kapita Selekta Kriminologi. Bandung: Refika Aditama.
Atkinson, J. (2016). Hiding Hedonism in Plain Sight: Acoustic Participatory Camouflage at the DDR Museum in Berlin. Javnost—The Public, 23(3), 237–254. Routledge.
Bentham, J. (2000). An Introduction to the Principles of Morals and Legislation. (J. H. Burns & H. L. A. Hart, Eds.). Kitchener: Batoche Books.
Betsy Shirley, "A System of Extrems," America 223, no. 2 (August 2020): 18–25.
Biswas, M. (2018). Restorative Justice for A Better Criminal Justice System in Bangladesh. SCLS Law Review, 1(3), 45–49.
Brauer, J. R., & Tittle, C. R. (2017). When Crime is not an Option: Inspecting the Moral Filtering of Criminal Action Alternatives. Justice Quarterly, 34(5), 818–846. Routledge.
Brown, D. (2020). Civil order, criminal justice, and 'no justice no peace.' University of Toronto Law Journal, 70(supplement 1), 84–101. University of Toronto Press.
Browne, J. (2021). Youth Justice Strategy: 2021—2027. Irlandia: An Roinn Dli agus Cirt: Department of Justice.
Budhijanto, D. (2010). Hukum Telekomunikasi, Penyiaran dan Teknologi Informasi: Regulasi dan Konvergensi. Bandung: PT. Refika Aditama.
Budi, M. (2022). Peneliti Temukan Lapas di RI Over Kapasitas, Terbanyak Napi Narkotika. DetikNews. Retrieved May 6, 2023, from https://news.detik.com/berita/d-6304842/peneliti-temukan-lapas-di-ri-over-kapasitas-terbanyak-napi-narkotika#:~:text=Peneliti%20Center%20of%20Detention%20Studies%20%28CDS%29%20Ali%20Aranoval,ada%20kelebihan%20kapasitas%20sebanyak%20144.253%20orang%20narapidana%20%28napi%29.
Centers for Disease Control. (2019). The Social-Ecological Model: A Framework for Prevention. Center of Disease Control and Prevention. Retrieved March 3, 2023, from . https://www.cdc.gov/violenceprevention/overview/social- ecologicalmodel.html
Charnelle, V. der B. (2018). Parental criminal responsibility for the misconduct of their children: A consideration. Potchefstroom Electronic Law Journal, 21(1), 1–21. North-West University.
Chávez Villegas, C. (2020). Poverty, Aspirations, and Organized Crime in Ciudad Juárez, Mexico. Victims & Offenders, 15(3), 330–349. Routledge.
Cornish, D. B., & Clarke, R. V. (1987). Understanding crime displacement: An application of rational choice theory. Criminology, 25 (4), 933-948.
Clarke, Ronald R., ed. (1997). Situational Crime Prevention: Successful Case Studies (2nd ed.). New York: Harrow and Heston.
Cornish, D. (2017). Theories of action in criminology: Learning theory and rational choice approaches. In Routine activity and rational choice (pp. 351-382). Routledge.
Carroll, J., & Weaver, F. (2017). Shoplifters" perceptions of crime opportunities: A process-tracing study. In The reasoning criminal (pp. 19-38). Routledge.
Coe, P. (2015). The social media paradox: An intersection with freedom of expression and the criminal law. Information & Communications Technology Law, 24(1), 16–40. Routledge.
Dachak, H. (2021). The Principle of Proportionality of Crime and Punishment in International Documents. International Journal of Multicultural and Multireligious Understanding, 8(4), 684–694. International journal of multicultural and multireligious understanding.
Hannon, L. (2002a). Criminal Opportunity Theory and the Relationship Between Poverty and Property Crime. Sociological Spectrum, 22.
Hannon, L. (2002b). CRIMINAL OPPORTUNITY THEORY AND THE RELATIONSHIP BETWEEN POVERTY AND PROPERTY CRIME. Sociological Spectrum, 22(3), 363–381. Routledge.
Hof, S. van der, & Ouburg, S. (2021). Methods for Obtaining Parental Consent and Maintaining Children Rights. Center for Law and Digital Technologies (eLaw). Retrieved from https://euconsent.eu/download/methods-for-obtaining-parental-consent-and-maintaining-children-rights/
Hollands, R., & Chatterton, P. (2002). Changing times for an old industrial city: Hard times, hedonism and corporate power in Newcastle's nightlife. City, 6(3), 291–315. Routledge.
Johnstone, G., & Ness, D. W. V. (2007). Handbook on Restorative Justice (1st ed.). New York: Willan Publishing.
Kemp, S. (2021). DIGITAL 2021: INDONESIA. Hootsuite.
Kemp, S. (2022). Digital 2022: Indonesia. Kepios. Retrieved February 17, 2022, from https://datareportal.com/reports/digital-2022-indonesia
Kennedy, J. L. D., Tuliao, A. P., Flower, K. N., Tibbs, J. J., & McChargue, D. E. (2019). Long-Term Effectiveness of a Brief Restorative Justice Intervention. International Journal of Offender Therapy & Comparative Criminology, 63(1), 3–17.
Kim, D. D. E. (2020). The Search for Pleasure and Meaning on TV, Captured In-App: Eudaimonia and Hedonism Effects on TV Consumption as Self-Reported via Mobile App. Journal of Broadcasting & Electronic Media, 64(5), 693–713. Routledge.
Marshall, W. L., Smallbone, S., & Marshall, L. (2014). A critique of current child molester subcategories: A proposal for an alternative approach. Psychology, Crime & Law, 21, 205–218.
McLoughlin, L., Ward, S., & Lomas, D. W. B. (2020). 'Hello, world': GCHQ, Twitter and social media engagement. Intelligence and National Security, 35(2), 233–251. Routledge.
Morton, A. (n.d.). Philosophy in Practice: An Introduction to the Main Questions.
Munawaroh, M. (2022). HEDONISME REMAJA SOSIALITA (LIFE STYLE REMAJA SOSIALITA KALANGAN MAHASISWA DI PEDESAAN LAMONGAN.
news, detik. com. (2023). Kasus-kepala-bpn-jaktim-berawal-istri flexing-diperiksa-kpk-hingga-dicopot.
Parkinson, G. H. R. (1996). An Encyclopaedia of Philosophy. London: Routledge.
Plummer, R. (1998). Life Span Development Psychology: Personality and Socialization. New York: Academic Press.
Prasetyo, T., & Barkatullah, A. H. (2005). Politik hukum pidana: Kajian kebijakaan kriminalisassi dan dekrimininasi. Yogyakarta: Pustaka Pelajar.
Putri, K. (2012). Gaya Hidup Hedonis Ditinjau Dari Sikap Terhadap Clubbing Dan Konformitas Teman Sebaya (Skripsi). Universitas Katolik Soegijapranata, Semarang.
Quinn, J. F. (1987). Sex roles and hedonism among members of "outlaw" motorcycle clubs. Deviant Behavior, 8(1), 47–63. Routledge.
Rahmasari, T. P. (2022). PERGESERAN MAKNA HEDONISME EPICURUS DI KALANGAN GENERASI MILLENIAL. JURNAL YAQZHAN: Analisis Filsafat, Agama dan Kemanusiaan, 8(1), 51.
Roberson, C., & Azaola, E. (2020). Juvenile Delinquency: Why Do Youths Commit Crime? Rowman & Littlefield. Maryland: Rowman & Littlefeld.
Roberts, W. (1976). Hedonism in Eighteenth-Century French Literature and Painting. Symposium: A Quarterly Journal in Modern Literatures, 30(1), 42–60. Routledge.
Robinson, M. (1999). Lifestyles, routine activities, and residential burglary victimization. Journal of Crime and Justice, 22.
Rohimi, A. R. B. (2022). PENGARUH BUDAYA HEDONISME KEPADA GENERASI MUDA PADA ERA ZAMAN SEKARANG.
Savage, J., Ellis, S. K., & Wozniak, K. H. (2019). The Role of Poverty and Income in the Differential Etiology of Violence: An Empirical Test. Journal of Poverty, 23(5), 384–403. Routledge.
Simmons, W. P. (2011). Human Rights Law and the Marginalized Other. New York: Cambridge University Press.
South, N. (2004). Managing work, hedonism and 'the borderline' between the legal and illegal markets: Two case studies of recreational heavy drug users. Addiction Research & Theory, 12(6), 525–538. Taylor & Francis.
Tempo, M. (2023). Kronologi-lengkap-kasus-rafael-alun-dari kasus-penganiayaan-hingga-jadi-tersangka-kpk.
Terry, A., & Lockwood, A. (2020). Exposure to Urbanized Poverty and Attitude Change: A Longitudinal Case Study on Service-Learning with Rural Undergraduate Criminal Justice Students. Journal of Criminal Justice Education, 31(4), 489–508. Routledge.
Trimartati, N. (2014). Studi Kasus Tentang Gaya Hidup Hedonisme Mahasiswa Bimbingan dan Konseling Angkatan 2011 Universitas Ahmad Dahlan. PSIKOPEDAGOGIA Jurnal Bimbingan dan Konseling, 3, 20.
Wiratny, N. K. (2018). Prinsip Kepentingan Terbaik Bagi Anak Dalam Diversi Pada Sistem Peradilan Pidana Anak. Raad Kertha, 01(01), 61–78.
Zaidan, M. A. (2016). Kebijakan Kriminal. Jakarta Timur: Sinar Grafika.
Zehr, H. (2016). The Little Book of Restorative Justice. Vancouver: Langara College.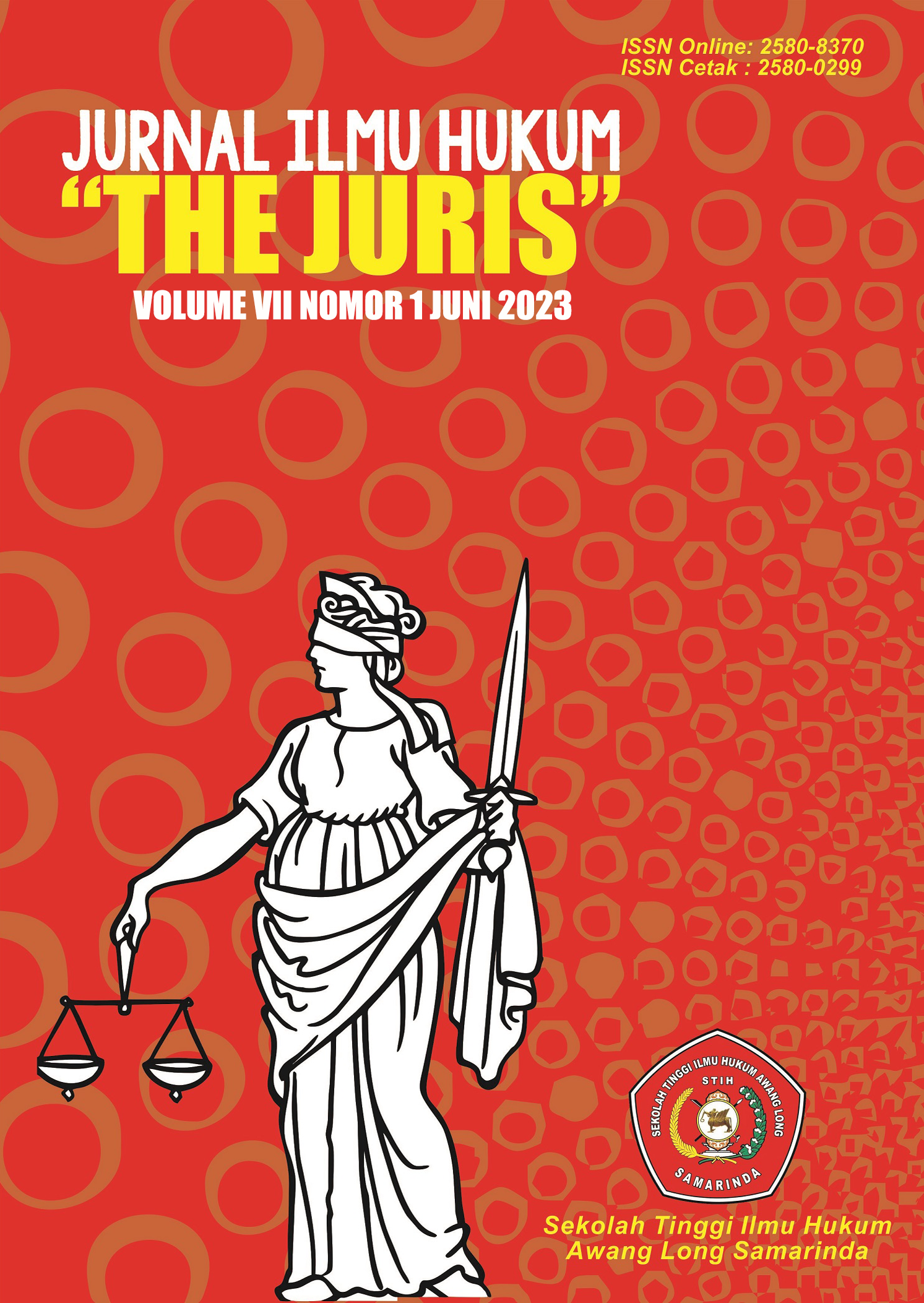 How to Cite
Agung Salman Alfarisi, & Ahmad Muhammad Ridwan Saeful Hikmat. (2023). PENGOPTIMALKAN PENDEKATAN KEADILAN RESTORATIF DALAM MENANGGULANGI KEJAHATAN YANG DIAKIBATKAN GAYA HIDUP HEDONISME. Jurnal Ilmu Hukum The Juris, 7(1), 26-35. https://doi.org/10.56301/juris.v7i1.821
Copyright (c) 2023 Agung Salman Alfarisi, Ahmad Muhammad Ridwan Saeful Hikmat
This work is licensed under a Creative Commons Attribution-ShareAlike 4.0 International License.