PERLINDUNGAN HAK ANAK AKIBAT KEKERASAN SEKSUAL DI PONDOK PESANTREN PERPSEKTIF MAQASHID SYARIAH (YASSER AUDA) DAN HUKUM POSITIF
Netti Herawati

UIN SAMARINDA

Abnan Pancasilawati

UIN Sultan Aji Muhammad Idris Samarinda

Maisyarah Rahmi

UIN Sultan Aji Muhammad Idris Samarinda
Keywords:
Protecting Children's Rights, Sexual Violence, Islamic Boarding Schools, Maqoshid al-Syari'ah, Yaser Auda
Abstract
This research discusses protecting children's rights in the context of sexual violence in boarding schools, using the perspective of Maqoshid Syariah presented by Yasser Auda and integrating it with positive law. The research aims to analyze the relevance of the concepts of Maqoshid Syariah in protecting the rights of children who are victims of sexual violence, as well as comparing it to positive law. This research uses a phenomenological approach and literature analysis methods by referring to Yasser Auda's works on Maqoshid Syariah and positive legal studies on protecting children's rights and sexual violence in boarding schools. The research results show that; First, The background of the perpetrator, who is the Leader of the Islamic Boarding School, is only due to lust and conscious will by forcing the victim to marry 'Sirri' without the knowledge of other people; second, The form of legal protection given to victims of sexual violence is legally processed, providing health protection in the form of mental health through UPT Integrated Service Center for Empowerment of Women and Children (P2TP2A) Kutai Kartanegara, and offer legal assistance to victims to be accompanied, third, must include the role of religion, protect the victim's soul both physically and non-physically (mentally), provide guarantees for a good education, offspring obtained from marriage based on an agreement, protection in socio-economic terms, protection in the form of clearing the victim's good name.
Downloads
Download data is not yet available.
References
Alison Mackey, Second Language Research: Methodology and Design (Mahwah, NJ : Lawrence Erlbaum, 2005).
Agus Thohawi, "Legal Protection in Recovering Children from Victims of Sexual Violence", dalam Jurnal Hukum dan HAM Wara Sains, Vol. 2, No. 03, 2023.
Ahmad Badrut Tamam, Rancangan Undang-Undang Penghapusan Kekerasan Seksual (RUU PKS) dalam Perspektif Maslahah Mursalah, dalam Proceedings of Annual Conference for Muslim Scholars, Vol. 3 No. 1, 2019.
Ahmad Fathan Aniq, "Maqāsid al-Syarīah wa Makānatuhā fī Istinbāṭ al-Aḥkām al-Syāriyyah". Dalam Jurnal AlQanun: Jurnal Pemikiran dan Pembaharuan Hukum Islam, Vol. 12, No. 1, 2009.
Basri Bado, Model Pendekatan Kualitatif: Telaah Dalam Metode Penelitian Ilmiah (Tahta Media Group, n.d.).
Buku Data Kekerasan Seksual Perempuan dan Anak Provinsi Kalimantan Timur,Amplikasi SIMFONI PPA,Dinas KP3A Provinsi Kalimantan Timur, 31 Desember Tahun 2023.
Bz. Fitri Pebriaisyah,Wilodati, Siti Komariah,"Kekerasan Seksual di Lembaga Pendidikan Keagamaan: Relasi Kuasa Kyai Terhadap Santri Perempuan di Pesantren", Sosietas Jurnal Pendidikan Sosiologi, Universitas Pendidikan Indonesia, Bandung, 2527-8045.
Hossein Nassaji, "Qualitative and Descriptive Research: Data Type Versus Data Analysis,"Language Teaching Research 19 (February 26,2015).
Howard Lune and Bruce L. Berg, Qualitative Research Methods for the Social Sciences, Ninth edition, global edition (Harlow, England Munich: Pearson, 2017.
John W. Creswell and John W. Creswell, Qualitative Inquiry and Research Design: Choosing among Five Approaches, 3rd ed (Los Angeles: SAGE Publications, 2013).
Jasser Auda, Maqāṣid Al-Sharī'ah A Beginner's Guide, (London: The International Institute of Islamic Thought, 2008).
Juan Maulana Alfredo, Xavier Nugraha, Dita Elvia Kusuma Putri, "Islamic Sex Education Program Transformasi Pendidikan Pesantren Guna Mencegah Terjadinya Kekerasan Seksual di Kalangan Santri", Mizan Journal of Islamic Law, Vol,6, No.1, 2598-6252,6 Nopember 2022.
Keputusan Direktur Jenderal Pendidikan Islam, Nomor 4836 Tahun 2022 Tentang Panduan Pendidikan Pesantren Ramah Anak, tertanggal 30 Agustus 2022.
"Komnas Perempuan," Komnas Perempuan | Komisi Nasional Anti Kekerasan Terhadap Perempuan,accessed March 13, 2023, https://komnasperempuan.go.id/pencarian/1?cari=pesantren.
Lexy J. Moleong, Metodologi Penelitian Kualitatif, (Bandung: PT Remaja Rosdakarya, 2019), h. 330.
Lewoleba & Fahrozi, "Faktor-Faktor Studi Terjadinya Tindak Kekerasan Seksual Pada Anak-Anak". dalam Jurnal Esensi Hukum, Vol. 2 No. 1, 2020.
Matthew B. Miles, A. M. Huberman, and Johnny Saldaña, Qualitative Data Analysis: A Methods Sourcebook, Third edition (Thousand Oaks, Califorinia: SAGE Publications, Inc, 2014).
Peraturan Menteri Agama (PMA) Republik Indonesia Nomor 73 Tahun 2022, tentang Pencegahan dan Penanganan Kekerasan Seksual di Satuan Pendidikan pada Kementerian Agama, diundangkan di Jakarta, 6 Oktober 2022. Bab IV, Penanganan, pasal 8, butir 1 dan 2.
Sari, KIP, Farida, LN, Prameswari, VE, Khayati, N., Asmaret, D., Pramana, C., ... & Alfianto, AG, Kekerasan Seksual . Media Sains Indonesia. 2022.
Undang-Undang Republik Indonesia No. 12 Tahun 2022 tentang Tindak Pidana Kekerasan Seksual, Pasal 2, 4, 10 ayat 2, 68 huruf e, 69, 70, 71 ayat 2, 73, 79.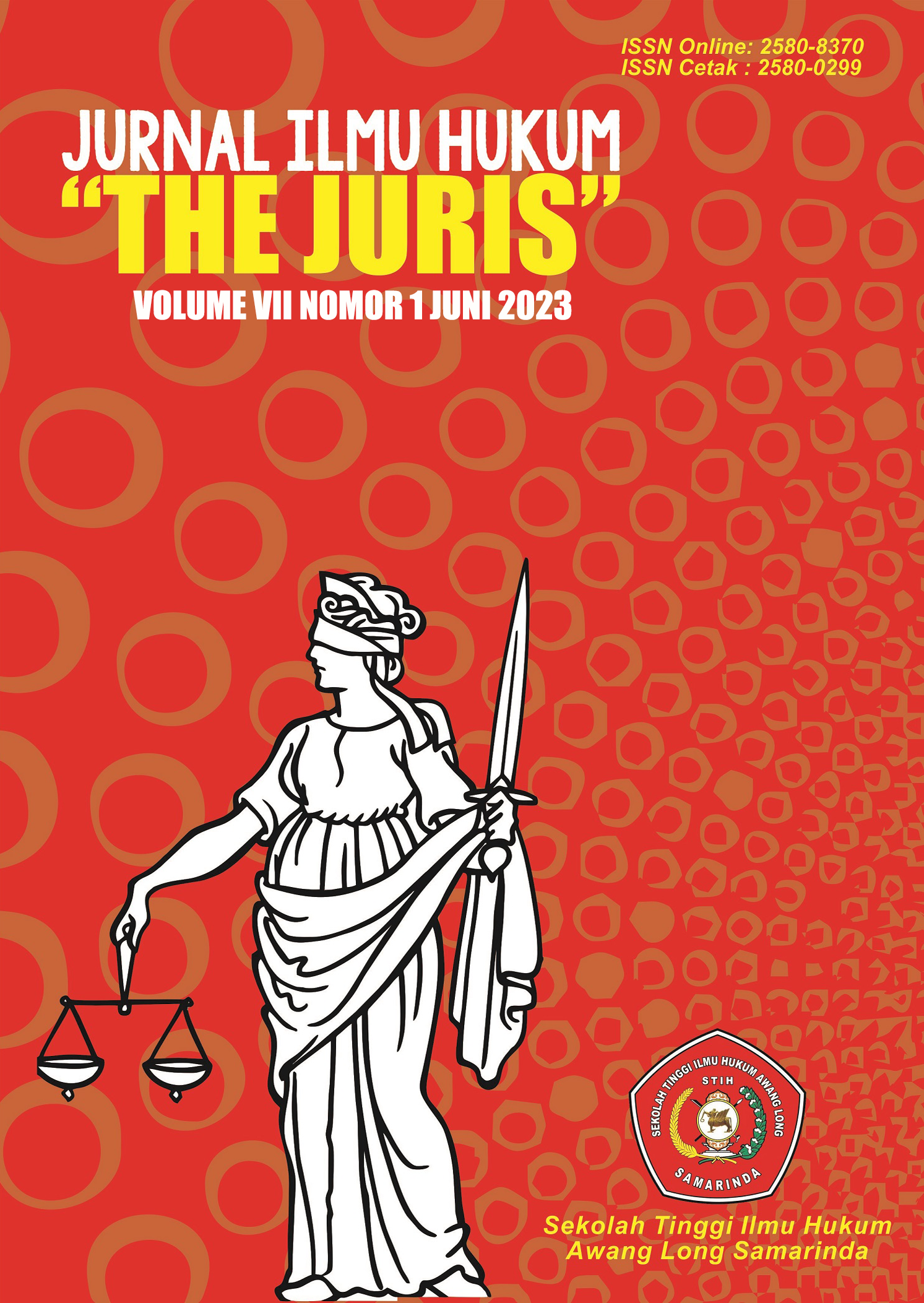 How to Cite
Herawati, N., Abnan Pancasilawati, & Maisyarah Rahmi. (2023). PERLINDUNGAN HAK ANAK AKIBAT KEKERASAN SEKSUAL DI PONDOK PESANTREN PERPSEKTIF MAQASHID SYARIAH (YASSER AUDA) DAN HUKUM POSITIF. Jurnal Ilmu Hukum The Juris, 7(1), 51-58. https://doi.org/10.56301/juris.v7i1.824
Copyright (c) 2023 Netti Herawati, Abnan Pancasilawati, Maisyarah Rahmi
This work is licensed under a Creative Commons Attribution-ShareAlike 4.0 International License.