KEBEBASAN HAKIM DALAM MENJATUHKAN PIDANA MINIMUM DAN MAKSIMUM PADA TINDAK PIDANA PENCURIAN DENGAN PEMBERATAN
Nursolihi Insani

Program Studi Ilmu Hukum, Universitas Pamulang
Keywords:
Theft, Theft with Aggravation, Judge Freedom
Abstract
In the Indonesian Criminal Code (KUHP), there is no minimum sanction for a criminal offense. However, the KUHP provides a limitation in book one on general rules, which states that the shortest prison sentence is one day and a maximum of fifteen years. This will lead to legal uncertainty, if it turns out that aggravated criminal offenses must also refer to Article 12 of the Criminal Code to determine the minimum sanction. The point here is, there is no difference in the end between the crime of ordinary theft and the crime of theft with aggravation, if in the end it is sentenced under the maximum penalty for ordinary theft or theft in the main form. The research method used is a literature study or also called normative, with a statutory approach, using primary and secondary legal materials which are then read, recorded, then summarize all materials related to the theme of the writing raised. In the end, judges as law enforcers who have the freedom to decide a case, must rely on a clear and firm rule of law, when a rule of law does not provide firmness, the final result in the decision will provide legal uncertainty for the litigants.
Downloads
Download data is not yet available.
References
Bernard L. Tanya, dkk, 2019, Teori Hukum : Strategi Tertib Manusia Lintas Ruang dan Generasi, Jogjakarta, Genta Publishing
Hajairin, H. (2021). Konsep Peradilan Pidana Terintegrasi Dalam Penegakan Hukum Berkeadilan. SANGAJI: Jurnal Pemikiran Syariah dan Hukum, 5(1), 1-12.
Nugroho, W. (2012). Disparitas Hukuman Dalam Perkara Pidana Pencurian Dengan Pemberatan. Jurnal Yudisial, 5(3), 261-282.
P.A.F Lamintang dan Theo Lamintang, 2009, Delik-Delik Khusus Kejahatan Terhadap Harta Kekayaan Edisi Kedua, Jakarta: Sinar Grafika
P.A.F Lamintang, 1990, Hukum Pidana Indonesia, Bandung, Sinar Baru, cetakan ketiga
Peter Mahmud Marzuki, 2005, Penelitian Hukum, Jakarta, Kencana Prenada Media Grup
R. Soesilo, 1991, Kitab Undang-undang Hukum Pidana (KUHP) Serta Komentar-komentarnya Lengkap Pasal Demi Pasal, Bogor, Politeia
R.M. Suharto, 2002, Hukum Pidana Materiil, Cet. II, Jakarta, Sinar Grafika
Sugiono, 2008, Metode Penelitian Kualitatif, Kuantitatif dan R&D, Bandung, Alfabeta
Wirjono Prodjodikoro, 2010, Asas-Asas Hukum Pidana di Indonesia, Bandung, Refika Aditama
Toto Hartono, M. Ansori Lubis,Syawal Amry Siregar, Penegakan Hukum Terhadap Tindak Pidana Pencurian Dengan Kekerasan (Studi Pada Kepolisian Resor Kota Besar Medan), Jurnal Retentum, Vol 2 No 1. 2021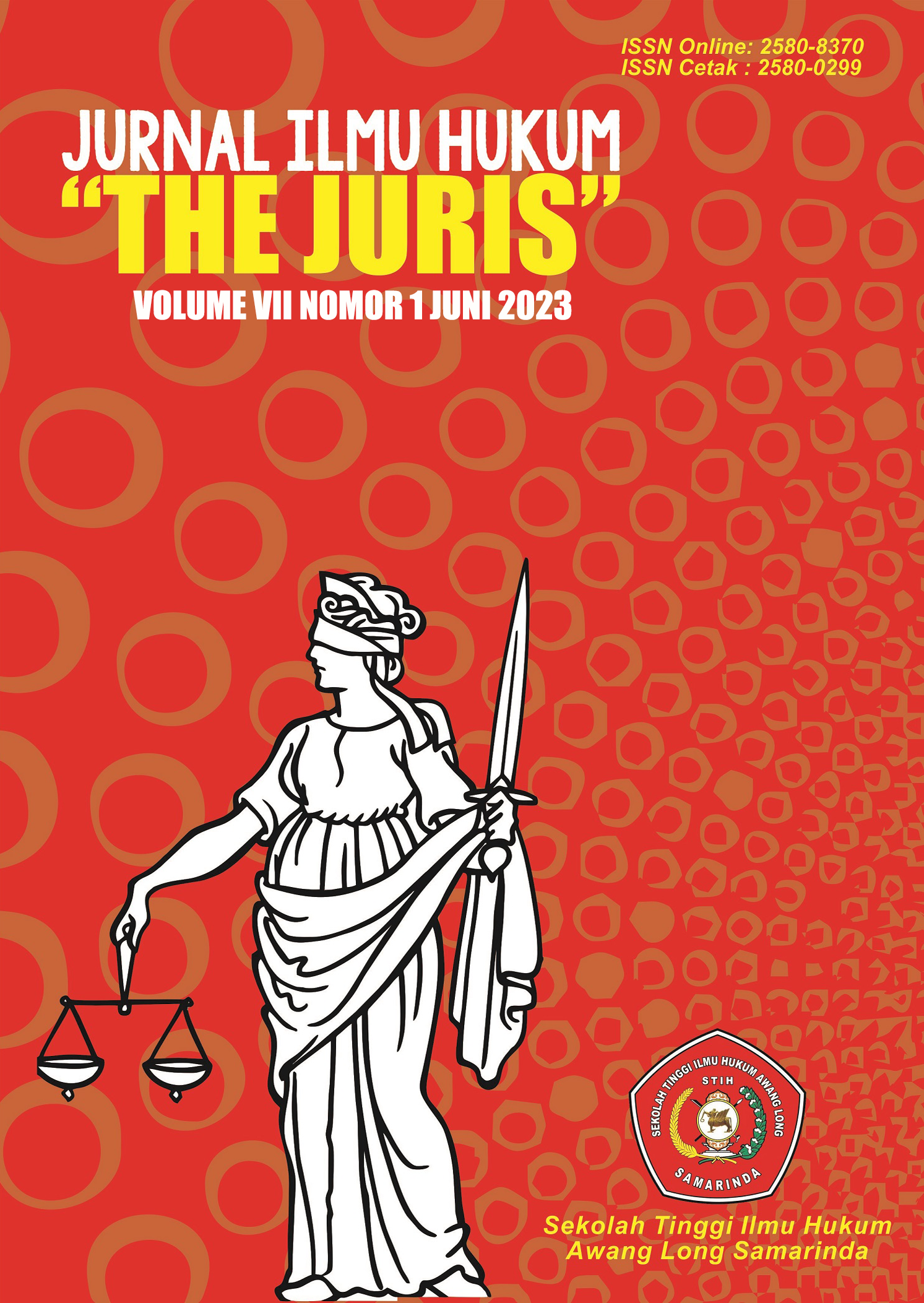 How to Cite
Nursolihi Insani. (2023). KEBEBASAN HAKIM DALAM MENJATUHKAN PIDANA MINIMUM DAN MAKSIMUM PADA TINDAK PIDANA PENCURIAN DENGAN PEMBERATAN. Jurnal Ilmu Hukum The Juris, 7(1), 85-91. https://doi.org/10.56301/juris.v7i1.832
Copyright (c) 2023 Nursolihi Insani
This work is licensed under a Creative Commons Attribution-ShareAlike 4.0 International License.