ASSET RECOVERY DALAM TINDAK PIDANA KORUPSI SEBAGAI UPAYA PENGEMBALIAN KERUGIAN KEUANGAN NEGARA
Hasanal Mulkan

Fakultas Hukum Universitas Muhammadiyah Palembang

Serlika Aprita

Fakultas Hukum Universitas Muhammadiyah Palembang
Keywords:
Asset Recovery, Corruption Crime, State Finance
Abstract
The positive law in force in Indonesia that regulates corruption is the Law of the Republic of Indonesia Number 31 of 1999 in conjunction with the Law of the Republic of Indonesia Number 20 of 2001 concerning the Eradication of Criminal Acts of Corruption. In overcoming the problem of corruption, in fact there are many difficulties faced by law enforcers which have become a routine part of law enforcement constraints in Indonesia. In addition, the problem is even more difficult if when the perpetrators of corruption are not in Indonesia, where trials are conducted in absentia, then the assets resulting from corruption have been hidden abroad, so this creates serious problems for prosecutors in carrying out executions. However, today the functionalization of criminal law in the context of enforcing the law on corruption, both from the point of view of material criminal law, formal criminal law (criminal procedure law), as well as criminal implementation, still faces obstacles, especially regarding the policy of recovering assets of perpetrators of corruption has implications for the implementation of the execution of replacement money payments in order to optimize the recovery of state financial losses. Thus, obstacles in eradicating criminal acts of corruption must be addressed immediately, so that they do not become an inhibiting factor in efforts to restore state financial losses, so that the national development program can run optimally. The current policy of recovering assets of perpetrators of corruption in an effort to recover state financial losses cannot be implemented optimally, because it must be recognized that current national law still has many weaknesses that create difficulties for law enforcers in recovering assets of perpetrators of corruption, especially in terms of confiscating the assets of the perpetrators of corruption, so that the return on state financial losses resulting from corruption is currently not optimal.
Downloads
Download data is not yet available.
References
Aziz Syamsudin, 2011, Tindak Pidana Khusus, Sinar Grafika, Jakarta.
Ade Mahmud, 2021, Pengembalian Aset Tindak Pidana Korupsi: Pendekatan Hukum Progresif, Sinar Grafika Bumi Aksara, Jakarta.
Basrief Arief, 2006, Korupsi Dan Upaya Penegakan Hukum (Kapita Selekta), Adika Remaja Indonesia, Jakarta.
Elwi Danil, 2011, Korupsi: Konsep, TIndak Pidana, dan Pemberantasannya, PT Raja Grafindo Persada, Padang.
John Rawl dalam Marwan Effendy, 2014, Teori Hukum Dari Perspektif Kebijakan, Perbandingan, dan Harmonisasi Hukum Pidana, Referensi, Jakarta.
Moeljatno, 2000, Asas-asas Hukum Pidana, Jakarta: Rineka Cipta.
M Arif Setiawan and M H SH, Upaya Penegakan Hukum Pengembalian Kerugian Negara Oleh Komisi Pemberantasan Korupsi Akibat Tindak Pidana Korupsi, 2020.
Purwaning M Yanuar, 2007, Pengembalian Aset Hasil Korupsi, PT Alumni, Bandung.
Rahmayanti, 2020, Rekonstruksi Pengembangan Civil Forfeiture Untuk Meningkatkan Pengembalian Kerugian Keuangan Negara Berbasis Nilai Keadilan Bermartabat, Universitas Islam Sultan Agung Semarang.
Soerjono Soekanto. 2006. Pengantar Penelitian Hukum. UI-PRESS. Jakarta.
Dahlan, Distorsi Beban Pembuktian Dalam Tindak Pidana Korupsi Menurut Sistem Pembuktian, Jurnal Hukum Samudra Keadilan, Vol.10. No.1. 2015.
Eka Iskandar, Prinsip Pengembalian Keuangan Negara Akibat Tindak Pidana Korupsi Melalui Gugatan Perdata, Jawa Pos,12 Agustus 2008.
Gusti Ketut Ariawan, "Stolen Asset RecoveryInitiative, Suatu Harapan Dalam Pengembalian Aset Negara", dalam Jurnal Kertha Patrika, Vol. 33 No. 01, Bali, Januari 2008.
Harkristuti Harkrisnowo, Korupsi Konspirasi dan Keadilan di Indonesia". Jurnal Dictum LeIP. Edisi I. Jakarta : Lentera Hati,2002.
Maryanto,Pemberantasan Korupsi Sebagai Upaya Penegakan Hukum.
Jurnal Ilmiah CIVIS. Volume II. Nomor 2 Juli,2012.
Mujahid A. Latief, Pengembalian Aset Korupsi via Instrumen Perdata, Jawa Pos, 1 Agustus 2007.
Saldi Isra, 'Asset Recovery Tindak Pidana Korupsi Melalui Kerjasama Internasional', Makalah. Disampaikan Dalam Lokakarya Tentang Kerjasama Internasional Dalam Pemberantasan Korupsi, Diselenggarakan Atas Kerjasama Fakultas Hukum Universias Diponegoro Dan Kanwil Depkumham Prov. Jawa Tengah, 2008.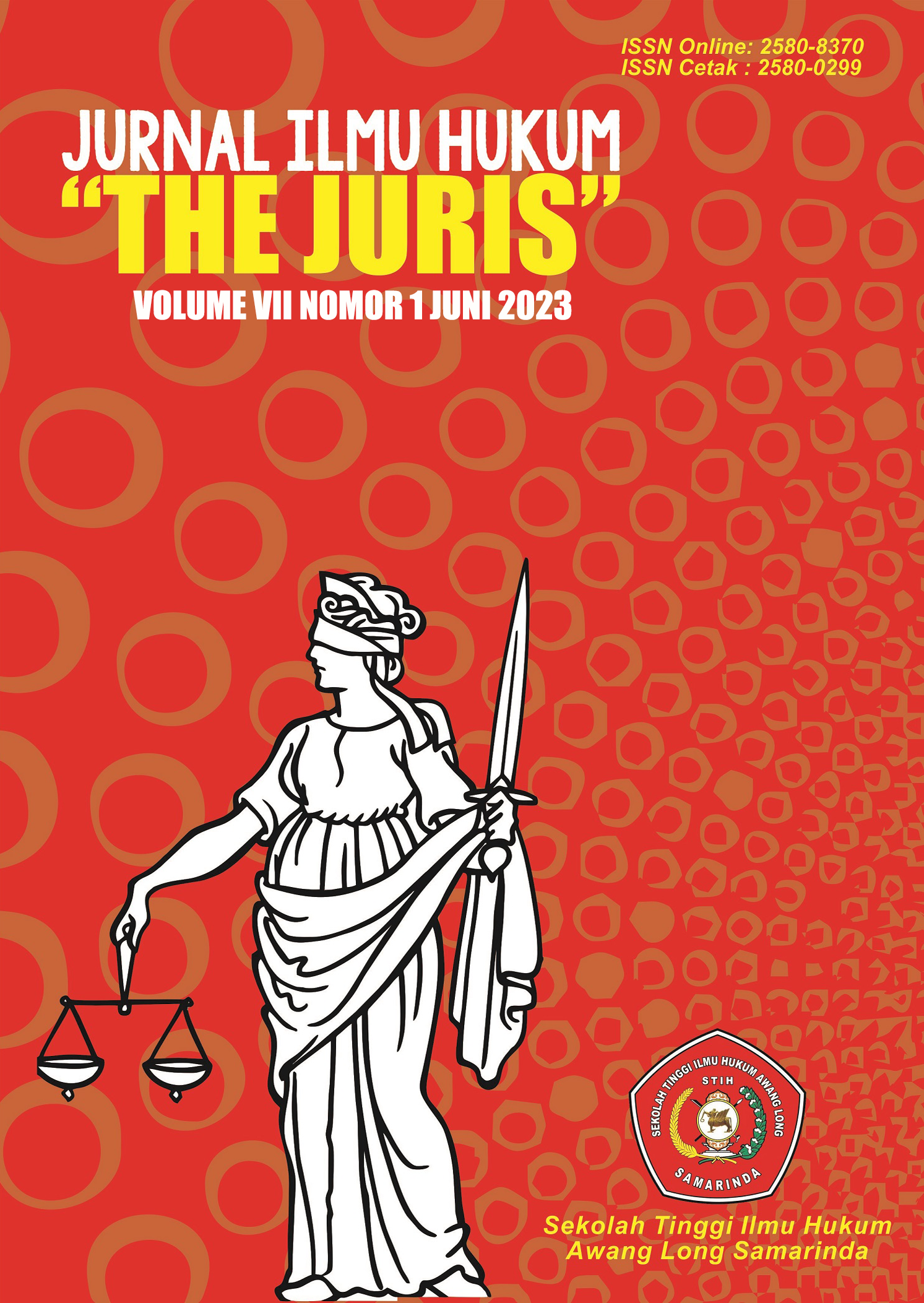 How to Cite
Hasanal Mulkan, & Serlika Aprita. (2023). ASSET RECOVERY DALAM TINDAK PIDANA KORUPSI SEBAGAI UPAYA PENGEMBALIAN KERUGIAN KEUANGAN NEGARA. Jurnal Ilmu Hukum The Juris, 7(1), 174-180. https://doi.org/10.56301/juris.v7i1.870
Copyright (c) 2023 Hasanal Mulkan, Serlika Aprita
This work is licensed under a Creative Commons Attribution-ShareAlike 4.0 International License.