PENEGAKAN HUKUM TERHADAP PLAGIARISME KARYA ILMIAH SEBAGAI UPAYA PENCEGAHAN DAN PENANGGULANGAN PLAGIAT DI PERGURUAN TINGGI
Emilio Fransantoso

Program Magister Ilmu Hukum, Universitas Pelita Harapan
Keywords:
Law Enforcement, Plagiarism, Scientific Work
Abstract
Plagiarism is an act intentionally or unintentionally in obtaining or trying to obtain credit or value for a scientific work, by quoting part or all of another party's scientific works and/or works that are recognized as scientific works, without stating the source accurately and adequately. In practice, although some have received sanctions, however, there is no uniformity in determining plagiarism, so each university has its own policy. The problem in this research is how is law enforcement against plagiarism of scientific work as an effort to prevent and deal with plagiarism in universities? The research method used is normative juridical. The results of the research show that law enforcement against plagiarism of scientific work as an effort to prevent and deal with plagiarism in tertiary institutions has not been implemented properly. This is due to multiple interpretations of Article 10 paragraph (3) of the Regulation of the Minister of Education, Culture, Research and Technology Number 39 of 2021 concerning Academic Integrity in Producing Scientific Work, due to the indecisiveness of the phrase "partially", thus making universities in Indonesia ultimately has its own policy related to scientific writing that can be categorized as plagiarism.
Downloads
Download data is not yet available.
References
Buku-Buku:
Lindsey, Tim et al., Hak Kekayaan Intelektual, Bandung: Alumni, 2011.
Prasetyo, Teguh dan Abdul Hakim Barkatullah, Ilmu Hukum dan Filsafat Hukum, Yogyakarta: Pustaka Pelajar, 2007.
Purwati, Ani, Metode Penelitian Hukum Teori dan Praktek, Jakarta: CV. Jakad Media Publishing, 2020.
Rahardjo,Satjipto, Hukum Progresif, Sebuah Sintesa Hukum Indonesia, Yogyakarta: Genta Publishing, 2009.
Soekanto, Soerjono dan Sri Mamuji, Penelitian Hukum Normatif-Suatu Tinjauan Singkat, Jakarta: Rajawali Press, 2007.
Soelistyo, Henry, Plagiarisme: Pelanggaran Hak Cipta dan Etika, Yogyakarta: PT Kanisius, 2011.
Tanya, Bernard L., Teori Hukum, Strategi Tertib Manusia Lintas Ruang dan Generasi, Yogyakarta: Genta Publishing, 2011.

Peraturan Perundang-Undangan:
Undang-Undang Nomor 28 Tahun 2014 tentang Hak Cipta.
Peraturan Menteri Pendidikan Nasional Republik Indonesia Nomor 17 Tahun 2010 Tentang Pencegahan dan Penanggulangan Plagiat di Perguruan Tinggi.
Peraturan Menteri Pendidikan, Kebudayaan, Riset, dan Teknologi Nomor 39 Tahun 2021 tentang Integritas Akademik Dalam Menghasilkan Karya Ilmiah.

Internet:
BBC, "Indonesia", http://www.bbc.com/indonesia/indonesia-41161834., diakses pada tanggal 21 Juni 2023.
Tribun News, "Diduga Plagiat Rektor Maranatha Dicopot", http://www.tribunnews.com/regional/2014/02/08/diduga-plagiat-rektor-maranatha-dicopot., diakses pada tanggal 21 Juni 2023.
Universitas Brawijaya, "Deteksi Plagiasi", http://hukum.ub.ac.id/deteksi-plagiasi-2/., diakses pada tanggal 21 Juni 2023.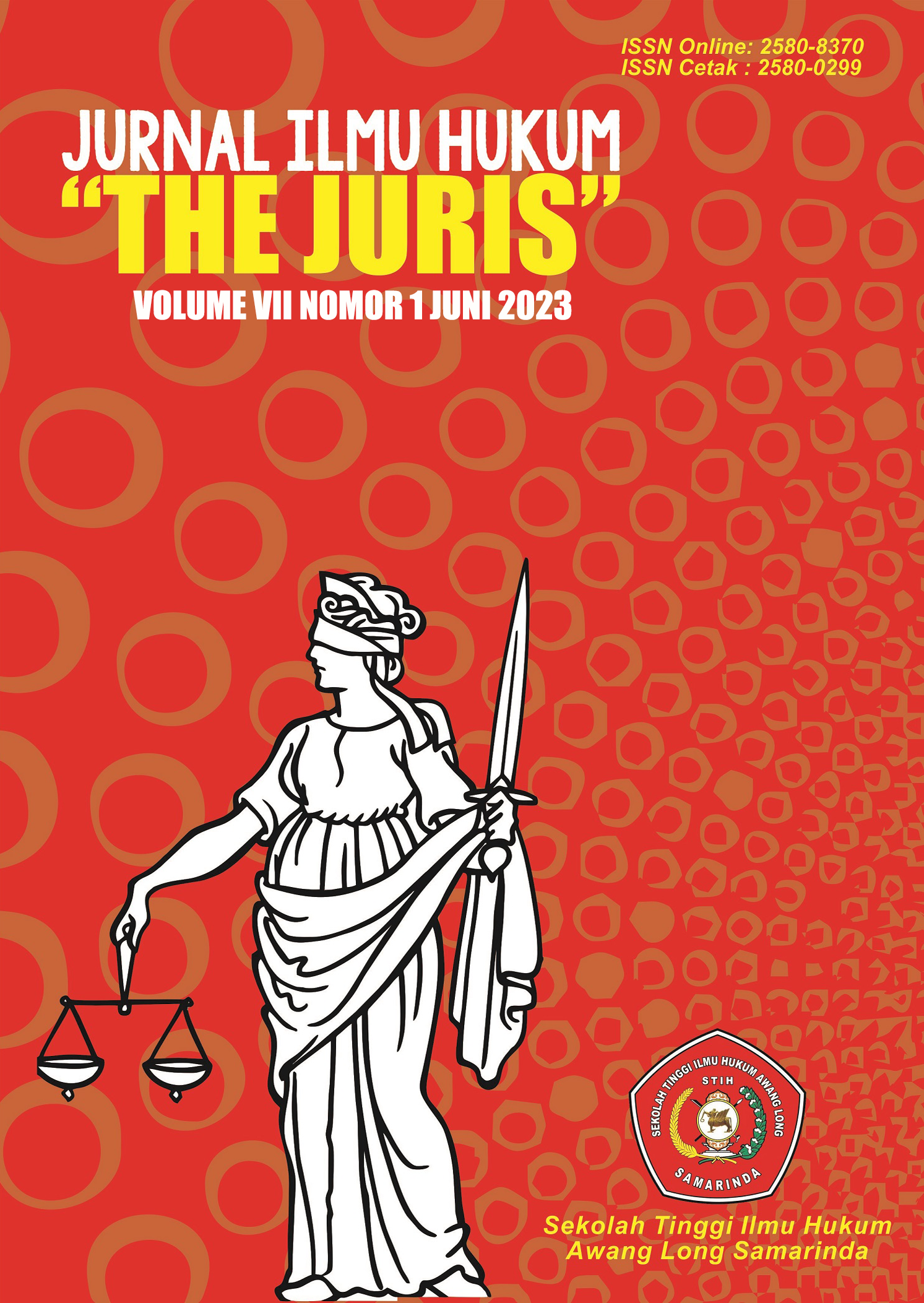 How to Cite
Emilio Fransantoso. (2023). PENEGAKAN HUKUM TERHADAP PLAGIARISME KARYA ILMIAH SEBAGAI UPAYA PENCEGAHAN DAN PENANGGULANGAN PLAGIAT DI PERGURUAN TINGGI. Jurnal Ilmu Hukum The Juris, 7(1), 220-227. https://doi.org/10.56301/juris.v7i1.887
Copyright (c) 2023 Emilio Fransantoso
This work is licensed under a Creative Commons Attribution-ShareAlike 4.0 International License.